Los Angeles
From Kustomrama
In the spring of 1940 a leftover crew from Howard Darrin established the Coachcraft Ltd. custom body shop in Melrose, Los Angeles.[1]
Hot Rods of Los Angeles, California
The Blair Special
Louis Banto and Jack Perre's 1927 Ford Model T Roadster
Louis Banto and Sal Macchia's 1927 Ford Model T Roadster
Bill Vogt's 1929 Ford Model A
Buzz Pitzen's 1929 Ford Model A Roadster
Kazar Simonian's 1929 Ford Roadster
Chet Herbert's 1932 Ford 4-door Sedan
George Sein's 1932 Ford 5 Window Coupe - The Flamer
Jack Peters' 1932 Ford Roadster
Lonnie Gaskin's 1932 Ford 4-door Sedan
Mac Schutt's 1932 Ford Roadster
Ed Pink's 1936 Ford 5-Window Coupe

Custom Cars of Los Angeles, California
Bruce Riddel's Kaiser
George Barris' 1936 Ford Convertible
Jack McNeil's 1936 Ford 3-Window Coupe
Arthur Lellis' 1939 Ford Convertible
Jerry Moffatt's 1939 Ford Convertible
Bob Creasman's 1940 Ford Coupe
Jim Chapkis' 1940 Ford
Johnny Williams' 1940 Ford
Albrecht Goertz' 1940 Mercury Coupe - The Paragon
Jack Stewart's 1941 Ford Coupe
Earl Wilson's 1947 Studebaker - The Grecian
Lloyd Marshall's 1948 Oldsmobile 98 Convertible
Marcia Campbell's 1949 Chevrolet Convertible
Charles Marshall's 1950 Cadillac Roadster
Mando's 1950 Chevrolet
Chuck DeWitt's 1950 Ford
Curt Mendalson's 1950 Ford
Bill Cicerone's 1950 Mercury
Bob Feldner's 1950 Mercury
Tom Davis' 1950 Oldsmobile 88
Tony Tellez' 1951 Chevrolet
Vince Ulloa's 1951 Chevrolet Four Door Fletline
Fred Rowe's 1951 Mercury
Frank Airheart's 1951 Oldsmobile 98 Convertible
Charles DeLacy's 1951 Studebaker
Ed Wilder's 1952 Cadillac Coupe deVille
Custom City Auto Sales' 1952 Mercury
Vic Tuttle's 1953 Mercury
Anthony Heinsbergen's Muntz
Chuck DeWitt's 1953 Ford Station Wagon
Russel Martin's 1953 Studebaker
Henry Contreras' 1955 Chevrolet Bel Air
Ronnie Reishert's 1955 Chevrolet Bel-Air
Gil Ayala's 1955 Ford Thunderbird - The Wild Bird
T. A. Neal's 1956 Buick
Ed Hoban's 1956 Chevrolet
Bruce Schwartz' 1958 Chevrolet Bel Air - The "Blue Car"
Frank Mann's Baby LeSabre
Mark Jorgenson's 1960 Chevrolet Impala
Sandy Gordon's 1961 Pontiac Bonnveille Convertible
Jim Arkin's 1965 Chevrolet Impala
Nick Hoogoian's 1965 Chevrolet Malibu
Jim Arkin's 1967 Buick Riviera

Custom, Body, Repair and Paint Shops of Los Angeles, California
Alex & West Body Shop
Barris Kustoms
Bob's Restoration
Brand Brothers Body Shop
Brownie's Body Shop
Coachcraft Ltd.
Cook's Machine Works
Earl and Don Lee Cadillac
Guild Auto Body
Jimmy Summers
John's
Kenny's Garage
Olive Hill Garage
The Branson & George Body Shop

Upholstery Shops of Los Angeles, California
Speed Equipment Manufacturers of Los Angeles, California
Cyclone Racing Equipment
Edelbrock
Grant
Sharp Speed Equipment

Custom Accessory Manufacturers of Los Angeles, California
Custom and Hot Rod Cars Shows of Los Angeles, California
Hot Rod Exposition
Los Angeles County Auto Show
Motorama
Winternationals Custom Auto Fair

Car Clubs of Los Angeles, California
Challengers of Los Angeles
Road Rebels
San Fernando Valley Illusions
Shacklers
Sinister Knights of Los Angeles

Citizens of Los Angeles, California
Al Sharp
Albrecht von Goertz
Anthony Heinsbergen
Arthur Lellis
Bill Cicerone
Bill Halvorsen
Bill Vogt
Bill Walker
Bobby Reggiero
Bob Creasman
Bob Feldner
Bruce Riddel
Bruce Schwartz
Buzz Pitzen
Charles DeLacy
Chuck DeWitt
Curt Mendalson
Don Blair
Earl Wilson
Ed Hoban
Ed Pink
Ed WIlder
Frank Airheart
Fred Rowe
Gordon Pilkington
Jack McNeil
Jack Perre
Jack Stewart
Jack Peters
Jerry Moffatt
Jim Arkin
Johnny Williams
Lloyd Marshall
Lonnie Gaskin
Lou Baney
Louis Banto
Mac Schutt
Marcia Campbell
Mark Jorgenson
Nick Hoogoian
Ron Gomez
Ronnie Reishert
Russel Martin
Sal Macchia
Sandy Gordon
T. A. Neal
Tom Davis
Tony Tellez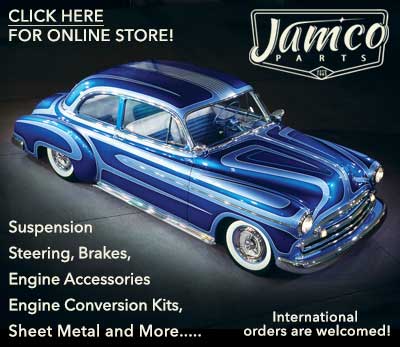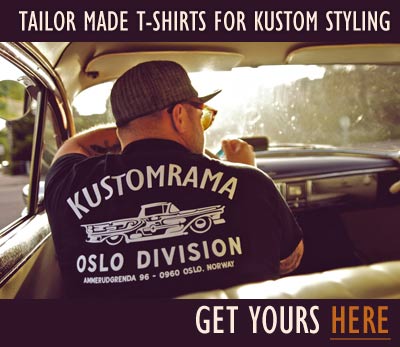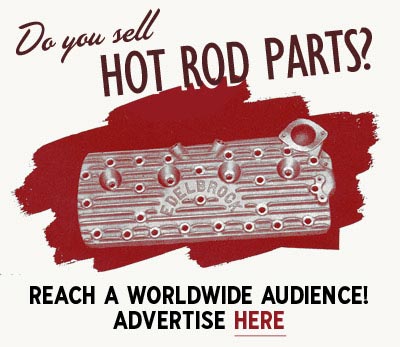 Did You Enjoy This Article?
Kustomrama is an online encyclopedia dedicated to traditional hot rod and custom cars. Our mission is to protect, preserve and share traditional hot rod custom car history from all over the world.
Help Us Make This Article Better
If you have additional information, photos, feedback or corrections about Los Angeles, please get in touch with Kustomrama at: mail@kustomrama.com.