Jimmy Summers
From Kustomrama
Jimmy Summers is a legendary custom car builder and hot rodder. Jimmy was one of the earliest customizers around operating out of his shop in California as far back as the 1930s.[1]. There were several "custom body" shops in the Los Angeles area dating back to the 1920s, such as Bohman and Schwartz, Coachcraft and Don Lee Body Works, but two of the first to specialize in customizing based on base-line production cars were Jimmy Summers and Roy Hagy.[2]
Jimmy was born in Roy, Montana, and he had several siblings.[3]
Custom Pioneer
In the late 1930s Jimmy's shop was located at 7919 Melrose Avenue in Los Angeles, right across the the street from Fairfax High School. Alex Xydias attended Fairfax back then, and he used to hang out at Jimmy's shop to watch him build hot rods and customs. According to Alex, the shop was nothing fancy, just four plastered walls, a bare concrete floor, and a gas jet, which on cold mornings was ignited to shoot a flame that warmed Summers' shop in minutes. Alex remembers Summers as "an ordinary looking guy - tall, lanky, older, maybe 30." Alex became fascinated with Summers' restyling. Insignias were removed, stock bumpers and grilles were replaces with bumpers and grilles from other, usually more expensive and prestigious cars; "Summers' customers did not want Summers to provide the, with a hot Ford as much as they wanted him to provide them with a fake Cord."[4] In the foreword of Ken Gross' book "Art of Hot Rod," Alex is quoted saying that there weren't a lot of shops doing this sort of work at that time; "Jimmy Summers and George DuVall were two of the best-known guys before the war."[5]
In 1940 Summers did some "panel freshening" on Ed Iskenderian's 1924 Ford Model T Roadster. According to Ed, Jimmy was the the best guy around; "We gave him 10 bucks and he pounded out a few dents and dings."[6]
Tom Sparks
Tom Sparks worked for Roy Hagy at his shop for about a year around 1942 - 1943, when he was about 15. In an interview with Pat Ganahl, Tom said that Roy Hagy and Jimmy Summers were the only one he knew of chopping tops at that time, but he also noted that "We weren't in Hollywood, and we didn't go very far." Tom said that Jimmy was by far the most popular; "He was pretty much an icon. He was like a god to us." Tom figures Summers ran his shop near Fairfax High for about 10 years, maybe into the early 1950s.[7]
Barbells
When Alex Xydias hang out at Jimmy's shop, Jimmy had a guy working for him named Bob Fairman. Bob was called "Barbells," and according to Alex he built a chopped 1936 Ford that featured full fadeaway fenders, like the Buicks of that era. Bob's Ford was the first custom with fadeaway fenders that Alex had seen.[5]
Alex Xydias felt that Jimmy was the top customizer and car builder before the war; "He did some remarkable things in his small shop, including building those solid rear fenders for my 1934 Ford cabriolet."
In 1941 Jimmy built a channeled 1932 Ford roadster. The car ran a distinctive bulged grille and a custom built windshield. Jimmy sold the roadster to Fred Vogel.
In 1946 Jimmy built a channeled 1940 Mercury convertible. The car received a handmade 1939 Buick-looking grille that Jimmy made from flat stock. Other modifications included removed running boards and gravel shields, a chopped windshield and a padded Carson Top. The first version of the car was painted Ruby Maroon. It was later painted green after Jimmy and Doane Spencer drove the Merc down the steps at the state capitol in Sacramento. Jimmy's wife also didn't like the Ruby Maroon color, so she got Jimmy to paint it green instead. In 1950 Jimmy sold the Merc to Tex Roberts, a colonel in the US Airforce. While Tex owned the Merc, it was shipped around the world.
Summers Fender Extension
In 1946 Jimmy started offering fadeaway fender kits for 1942-1948 Chevrolets, Pontiacs and junior Buicks. Spencer Murray bought a set from Jimmy to put on his 1946 Chevrolet fastback, and he remembers that Jimmy had dies made to stamp the parts and a sheet metal shop to do the stamping.[8] In 1948, Jimmy ran ads for his "Summer Fender Extensions" in Hot Rod Magazine. At the time Jimmy had a shop at 7919 Melrose Avenue in Los Angeles. According to the ads he ran, the fender panels served to enhance the body lines and inexpensively repair damaged or rusted doors and bodies. Fender extensions for Chevrolets, 1942 through 1948, were made in two types. "Type A" fit Aero Sedans, and "Type B" fit Convertibles, Coupes and Tudor Sedans. A complete primered set came with brackets, nuts, bolts, patterns and instructions for installation. The list price was $69.50.[9]
One Car a Week
According to Popular Mechanics May 1947 Jimmy hand-tailored about one car per week for customers.[10] In 1948 Jimmy's shop was still located at 7919 Melrose Avenue in Los Angeles.
In 1947 four photos of the Bill Hughes' Roadster were published in the February issue of California Timing News. According to Veda Orr's captions, the car was currently owned by Jimmy.
Jimmy repaired Paul Planette's 1939 Mercury Roadster, also known as the 1939 Coachcraft Mercury Roadster. Jimmy fixed the car after Paul Planette got into a car accident in which both the rear and front ends got smashed. Mr. Planette went back to Coachcraft to have them fix the car, but they sent him to Jimmy. Jimmy made a couple of modifications to the car: leaded in the rear fenders, removed grille and leaded in front end, shortened the hood. These modifications can be seen in the Dan Post's Blue Book of Custom Restyling. [11]
The Father of the Channel Job?
According to Motor Life May 1955, Jimmy is credited with the first channeling job.[12]
Jimmy the Entrepreneur
Jimmy had many talents, and over the years he invested in many businesses. One of them was Summers Sprinkler Company.[3]
First Marriage
Jimmy had a daughter, Sharon, with his first wife. The mother died when Sharon was very young.[3]
In 1962 Jimmy built the body for Tony Nancy's dragster. At the time his shop was somewhere in the San Fernando Valley.[7]
Jimmy Summers' Personal Rides
Jimmy Summers' 1932 Ford Roadster
Jimmy Summers' 1940 Mercury Convertible
Bill Hughes' Roadster

Cars Restyled by Jimmy Summers
Bob McGee's 1932 Ford Roadster
Jack Dorn's 1932 Ford Roadster
Alex Xydias' 1934 Ford Cabriolet
Fadeaway 1936 Ford by Jimmy Summers

People Working for Jimmy Summers
References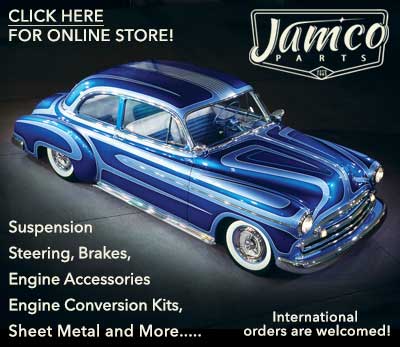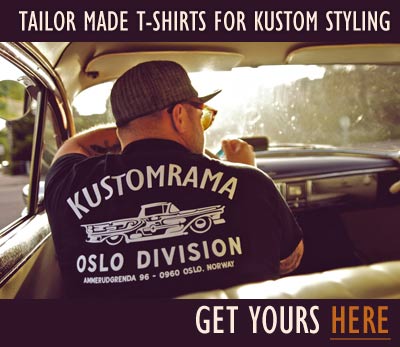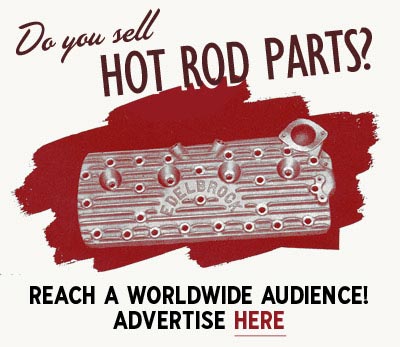 Did You Enjoy This Article?
Kustomrama is an online encyclopedia dedicated to traditional hot rod and custom cars. Our mission is to protect, preserve and share traditional hot rod custom car history from all over the world.
Help Us Make This Article Better
If you have additional information, photos, feedback or corrections about Jimmy Summers, please get in touch with Kustomrama at: mail@kustomrama.com.