Hydraulics
From Kustomrama
In 1957, while working at the experimental department at North American Aviation, Jim Logue of Long Beach, California began installing hydraulic lifts on his 1954 Ford. In 2017 Jim told Sondre Kvipt of Kustomrama that he got the idea for the hydraulics from a Citroen. Citroen first introduced hydropneumatic suspension in 1954, on the rear suspension of the Traction Avant. The first four-wheel implementation was in the advanced DS in 1955. "Citroen used hydraulics to raise the car and go off-road. It was made to raise, so I did some reverse engineering to make it go low." Jim thought of hydraulics to make the car practical on the street. "I didn't have no money, so I used second-hand hydraulic parts from Palley Supply Company." Palley's was a war surplus store that sold hydraulic parts. "They had books on it, catalogs on how much, how big, how much stroke, and all this. I couldn't buy hydraulic cylinders that would stick out the hood, so I had to do measuring and buying things they had that worked. I didn't know what the catalog numbers were or anything, I just bought stuff I knew that I needed, pumps and everything."[2]
In 1957 a law was passed by Governor Brown against lowered cars in California. The law, named the California Vehicle Code 24008, which wasn't enforced until 1958, outlawed any car having any part of the car lower than the bottom of its wheel rim. "They used to have a rollerskate that they would roll under your car with a stick to check the clearance," Jim Logue told Sondre Kvipt.[2]
Having the lowest car in Rialto, California, Ron Aguirre was constantly bugged by a cop named Lester Groves. Lester made it his #1 priority to give Ron tickets for being too low with his Corvette. This really bugged Ron, so after visiting a friends body shop seeing a bodyman pushing a dent out with a hydraullic Port-A-Power tool, Ron started to think. He looked at the ram and instantly got the idea to put this unit between the spring and frame to lift his car. Ron explained the idea to his dad Louie, who was a welder by trade. Louie started to make the cups Ron had designed to hold the rams. Ron had hoses made that would extend into the car, and he set the hand pump on the hump between the seats. Within three months after Ron had bought the car, he had installed the first of what was to be many versions of a hydraulic system in the car. Ron's Corvette would later evolve into a bubble top show car that gained national recognition as the X-Sonic. The X-Sonic was toured all over the United States, and it became known as the first car ever having hydraulic lifts to control the ground clearance
Ron Aguirre claimed that he had lifts from a Port-A-Power tool installed on the X-Sonic at least by October 1958. We know that Jim's Ford had lifts installed when it was featured in Custom Cars February 1959. According to Jim, the photo shoot for that story took place on September 30 of 1958, the day before his birthday.[3] Jim's Ford was mostly completed by October 1, 1958, and the lifts were on the car before Jim cut the roof off and fitted it with a 1957 Ford windshield. Jim can't remember exactly when he went over to Palleys to buy the hydraulics, but he believes that it was late in 1957 or early in 1958. He had all of the original receipts from Palley's and from building the car, but these were unfortunately lost in a divorce. While Ron's Corvette incorporated lifts to raise and lower the front suspension, Jim's Ford was fit with lifts on all four corners. Jim did also use hydraulic lifts to raise and lower the hood on his car.
Roy Abendroth of Compton, California wanted to build something different when he set out to restyle his 1955 Buick Century in 1959. He wanted a hardcore show car. He knew George Barris, and he got the inspiration for his build after seeing what George was doing to the Aztec. Roy bought the brand-new Buick for 3300 dollars in 1956. He had just come out of high school, and it didn't take a long time before he had given the Century a mild makeover. "We tunneled it," he told Sondre Kvipt in 2020. "We lifted the floorboards up where the driveshaft goes and C-framed it. We cut the rear frame up and used heavy metal, so when you drop down, the axle doesn't bang the frame." Roy did all that work himself. The car was black when he got it, and the father of the girl he was dating at the time, John W. Schott, helped give it a scallop paint job. This iteration of the car hit the streets around 1958.[4]
The Busonic Receives Lifts by the Aguirres
In 1959, when Roy was 22 years old, he decided to go radical with the Buick. Modifications included rear quarter panels from a 1957 Lincoln, 1956 Cadillac bumperettes, three exhaust pipes that excited from each taillight, a modified front end, and hydraulic lifts. Once Roy and Schott had completed the bodywork, he took the car to Larry Watson for a sparkling Metalflake paint job. Roy told Watson that he was interested in something different for the car. Watson, who had also painted Ron Aguirre's X-Sonic, told Roy about the lifts Ron had installed on his Corvette to adjust the ride height by the touch of a button. That was something brand new that caught Roy's interest, so he approached Aguirre about having him install lifts on his Buick as well. Ron accepted the offer, and Roy drove the car up to Fontana to have him install lifts upfront. "I took it over to him after the bodywork had been finished, while it was still in primer." Afraid of damaging the paint during the operation, he figured out it was safer to install the lifts before paint. "Ron took it apart and put all the lifts in. From what I understand, the lifts were built from parts from an aircraft. Like a piper cup or something like that. Componentes that lifts the wheels in and out when it's flying." The lifts were installed around 1961, about a year before he first showed it, making Roy's Buick one of the earliest lifted cars we have come across. It was the second car Ron installed lifts on, and it might have been the third hydraulic lifted custom in the world. Roy believes Ron's dad did most of the work. He also believes that Ron and his dad didn't install lifts on any other cars after the Buick, but he can't confirm that. "I know that mine was the second one after the Vette, but I haven't heard that he did any others after mine." In 2020, Roy couldn't remember how much he paid for the lifts, but he told Sondre that it wasn't all that much at the time, "I don't think it was even 500 dollars. I doubt it was that much." After Ron and his dad had installed the lifts, Watson and Roy gave the car a Busonic Bronze Metalflake paint job at Watson's Paramount shop. Roy showed the car once, in an unfinished state, before it hit the show circuit in 1962.[4]
In the early 1960s Utah passed a law against altered suspension. The law pretty much killed the custom scene in Utah, so Salt Lake City custom enthusiast Gordy Brown decided to pack his belongings and move to San Fernando in Southern California. In San Fernando, Gordy opened up a custom body shop named House of Customs. The first car Gordy built after moving to California was a 1963 Ford Thunderbird. After the car was finished, Gordy got a ticket for being too low, so he decided to install hydraulic lifts on it around 1963/1964. The Thunderbird was Gordy's first hydraulic job, and most of the parts were purchased at Palley's in Los Angeles. The systems were 24 volt, and the fitting ends on the cylinders and pumps were AN Thread, a US Military spec which made making and connecting lines challenging, as in those days fittings and adapters were harder to find. Most people installing lifts in the 1960s used the lifts to lower the car as well as lifting it. Gordy was doing an old fashioned lowering job so the car had a good ride. The lifts were then used to raise the car up. As Gordy was using a great deal more of the spring in his systems, he had to create a cup for the longer spring. His mounting systems were also different as he used a plate welded to the hydraulic cylinder instead of a loose doughnut for the cylinder to push up against. Gordy also had an aluminum plug machined to fit inside the cylinder so that when the mounting plate was welded to the cylinder the plug would hold the cylinder true to shape and also work as a heat sink. Also being aluminum, the plug would not stick/weld to the inside of the cylinder, and it was easy to remove after the plate was welded to the cylinder. Gordy was making all lines for the system in Stainless Steel, and not rubber as others were using. His systems worked either the front or the rear of the car independently, and it had a Restrictor in the lines to keep the fluid from moving from one side to the other when turning with the lifts partially extended. All of Gordy's lifts were set up to sit no lower than 1 1/2 to 2 inches off the ground, as a safety factor in case a cylinder or line failed the car would still be driveable and not hit the ground. In 2014 Gordy told Sondre Kvipt of Kustomrama that his system was made for comfort, and did not slam up or down.[5]
By the mid-1960s, there were shops and mechanics installing hydraulics throughout the greater Los Angeles area. "Al's was where all of the black guys were getting lifted," hopping champion Ted Wells told the staff of Lowrider Magazine. "In the early days, you understand, some white guys used to come over there, but as time went on it was mostly all black. Keep in mind, Al Sullivan would burn a hole in your framework. He didn't cut it with a torch, he just burnt a hole."[6]

Eventually, more African-American young men like Carl Watson and Terry Anderson would go on to make their own reputations installing hydraulics. Both Carl and Terry had learned the trade from old man Al,[6] and Carl went on to become one of the first guys to set up a hydraulic shop close to Crenshaw Boulevard.[7]
Back in 1964 or 65 Bill Hines' nephew, Teddy Zgremski, buys a 1957 Chevrolet Nomad from his friend Gene Rosco. Gene lived over in California, and the Nomad already had a beautiful Eddie Martinez interior when Teddy bought it. He put a set of E-T Classic V 5-spoke wheels on the Nomad and started driving it as his daily driver. "My uncle came back a few months after that," he told Sondre Kvipt of Kustomrama in 2020, "and I told him I would like to put hydraulics on it." Back then, nobody was doing hydraulics in Michigan, but Bil did a lot of them over in California. "He pre-made the shock brackets while he was out in California and brought them back to Michigan for a vacation." Teddy recalled. "He would never fly. Never got on an airplane." Teddy didn't have an ARC welder, or nothing like that back then, so they got it all set up before they took the car to the shop next door, Wyandotte Frame and Axle, who had an ARC welder they could borrow to weld the brackets for the shock absorbers and all that stuff. It was just the front that was lifted. "I would not do the back. Just the front, because I always liked the California rake you know, when they put it down low in the front." Teddy is pretty sure that his Nomad was the first lifted car in Michigan. "Cruising the drive-ins was great," he recalled. "Go through with the front bumper 2 inches off the ground. 10 minutes later. 12 inches." Teddy drove the Nomad every day of the year for two or three years. "Summer. Fall. Winter. Spring. I had a ski-boat that I used to tow up North to my mom's place, which is about 195 miles away, and I never ever had one problem with those hydraulics. They didn't leak, and I never had to add fluid or nothing. I could not believe it, but they worked great."[8]
Hydraulic Lifted Cars
Ed Roth's Mysterion
Pete Limpert's 1936 Ford Tudor Sedan
Ken McGoldrick's 1939 Chevrolet Coupe
Roger Squires' 1947 Chevrolet Fleetline - Pastime
Garret Greydanus' 1953 Chevrolet Bel Air
Jim Logue's 1954 Ford Convertible - The Fabulous X54
Roy Abendroth's 1955 Buick Century - The BuSonic
Ron Aguirre's 1956 Chevrolet Corvette - The X-Sonic
David Woo's 1957 Chevrolet
Teddy Zgrzemski' 1957 Chevrolet Nomad
Red Pierce's 1957 Oldsmobile
Joe Hurst's 1958 Chevrolet Impala
Andrew "Drew" Jackson's 1959 Chevrolet Impala - "Five Line"
Keith Christensen's 1959 Chevrolet Sedan Delivery
Tats Gotanda's 1959 Chevrolet Impala - The Buddah Buggy
Mark Jorgenson's 1960 Chevrolet Impala
Mike Perello's 1960 Ford Starliner
Richard Mikami's 1961 Chevrolet Impala - The Ant Killer
Carl Darling's 1961 Ford Starliner
Sandy Gordon's 1961 Pontiac Bonnveille Convertible
Mike Smith's 1962 Chevrolet Impala
Tom Chafin's 1963 Buick Riviera
Richard Mikami's 1963 Chevrolet Corvette Stingray
Gordy Brown's 1963 Ford Thunderbird
Jim Boyd's 1963 Ford
John Viggianelli's 1963 Ford Galaxie
Richard Zocchi's 1964 Buick Wildcat
Allen Duke's 1964 Chevrolet Impala SS - Bloody Mary
Howard Gribble's 1964 Chevrolet Impala - Bloody Mary II
Mike Smith's 1965 Buick Riviera - Lemon Drop
Alexander Ruelas' 1965 Chevrolet Impala
Bob Huffman's 1965 Chevrolet Impala
Jim Arkin's 1965 Chevrolet Impala
Milton Mills' 1965 Chevrolet Impala
Steve Arnold's 1965 Chevrolet Malibu
Nick Hoogoian's 1965 Chevrolet Malibu
Howard Gribble's 1966 Buick Riviera
Lil John's 1966 Chevrolet Caprice
Howard Gribble's 1967 Chevrolet Impala

People and Shops Installing Hydraulic Lifts
Al Sullivan
Bill Hines
Carl Watson
Dennis "Red" Pierce
Dick & Ron's Custom
Doug Carney
House of Customs
Steve Lee
Terry Anderson

References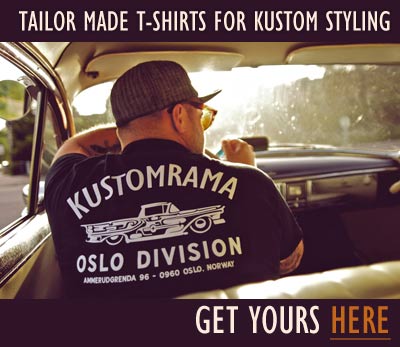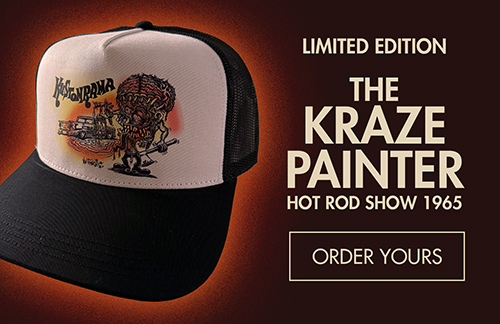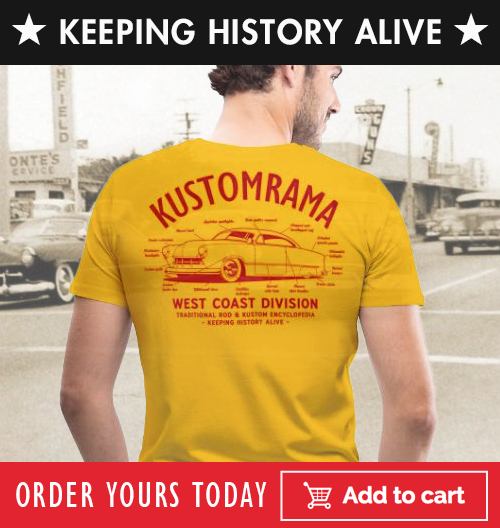 Did you enjoy this article?
Kustomrama is an encyclopedia dedicated to preserve, share and protect traditional hot rod and custom car history from all over the world.
Can you help us make this article better?
Please get in touch with us at mail@kustomrama.com if you have additional information or photos to share about Hydraulics.



This article was made possible by:
SunTec Auto Glass - Auto Glass Services on Vintage and Classic Cars
Finding a replacement windshield, back or side glass can be a difficult task when restoring your vintage or custom classic car. It doesn't have to be though now with auto glass specialist companies like www.suntecautoglass.com. They can source OEM or OEM-equivalent glass for older makes/models; which will ensure a proper fit every time. Check them out for more details!

Do you want to see your company here? Click here for more info about how you can advertise your business on Kustomrama.