Bill Hines
From Kustomrama
Bill Hines (03.23.1922 - 05.20.2016) was a legendary custom car builder. He goes by many names and is also known as Wild Bill, the Leadslinger, or the Godfather of Hydraulics. Bill Hines was one of the last of the original lead slingers, and his career can be traced back to a rented garage in Ecorse, Michigan in 1941. Michigan wasn't big enough for the little man with the big ambitions, so it didn't take a long time before Bill went West to pursue his dreams in California.

William Chandler Hines was born in Erie, Pennsylvania in 1922. He had a twin brother named Edward Robert, and a sister named Elizabeth Gertrude. Bill was born with a badly curved spine. It was bent at unusual angles, and it kept him leaning way forward instead of standing straight up. He was a sickly child. Unable to walk he had to crawl in his early years. Eventually, he had two vertebrae removed. That helped his condition, but it didn't cure it.[1] In an interview with Autoweek, Bill told Mark Vaughn that he stayed in the hospital at what they called the Sun Camp for two and a half years to cure his humpback; "They put me on a board, put me in the sun in the morning, I would stay there all day, then they would take me in at night. Two and a half years I did that. And it cured my spine, my humpback," Bill told Vaughn.[2]
Soon after Bill's release from the hospital, his father, Edward Hines, died of tuberculosis at the age of 36.[1] Bill's widowed mother, Willie Jane Chandler, moved to Detroit for work while his grandmother raised him in Jackson, Tennessee. In 1932, when his mother was settled, Bill and his brother moved to Detroit to join her.[3] When Olav Kvipt worked with Bill back in 2013 he told him that one of his dear childhood memories was hunting frogs with a slingshot.[4]
School's Out
During the Great Depression Bill was enrolled in art and shop classes where he excelled. At age 14 he wanted a motor scooter. He couldn't afford one, so he ended up building his own, using his skills in the machine shop to fabricate the necessary parts. Bill often skipped the academic classes to spend more time in both shop and art classes. In art class he sculpted a clay bust of Will Rogers that he cast on school.[1] In 1941 Bill had had enough, so he quit school and rented a garage in Ecorse, Michigan, where he could do custom bodywork. Bill's nephew, Teddy Zgrzemski, was born in 1943, but he remembers his uncle telling him that he built a 1933 Ford Phaeton with a hopped-up V8 when he quit school. "He told me how he milled the heads on it in the auto shop and how he used to do burnouts up and down the street in front of the high school."[5] In 1989 Jerry Weesner interviewed Bill for Street Rodder Magazine, and during the interview, Bill told Jerry that after the heads were milled he proceeded to race anyone who dared choose him off. According to Bill, the car was a 1934 Ford tub. Bill loved racing so much that he would go on and build and professionally campaign a V8-60 powered Midget. The interview, titled "The Leadslinger," appeared in Street Rodder September 1989.[1]
First Business Venture
According to Teddy, Bill's first business venture was a gas station in Ecorse. "Then, after that, he had three different shops in Ecorse. Two of them were on Jefferson, and the other one was on Southfield." The shops were regular auto repair shops, but Bill was mostly into custom work. "Six days a week. The body shop was his whole income," Teddy told Sondre Kvipt of Kustomrama in 2020.[5]
First Custom
Sometime between 1941 and 1943, Bill bought a 1941 Buick convertible that he built into his first custom. The car was brand new when Bill got it, and he told Jerry Weesner that he immediately began customizing it. The first version was turquoise with molded fenders, widened rocker panels, fender skirts, single bar flipper hubcaps and a spotlight. Later on, he cut the doors down and added a fin to the center of the decklid.[6] "Uncle Bill told me that he put up a large fin. He liked fins, and put one right down the middle of the decklid." The fin was way ahead of its time, and nobody liked it back then. According to Teddy, people teased him so much he put a new trunk on it.[5] Bill used the car while it was being restyled, so while he was working on the doors, he drove around without doors. Fins and cut-down doors would be one of Bill's first trademarks. In 2015 Bill told Mark Vaughn that he chopped the top 2 inches. He also told him about the fin, and how he widened the rocker panels; "I widened the rocker panels, they had a 4-inch rocker and I probably made an 8- to 10-inch rocker panel." When Bill bought the Buick it was blue. After he had restyled it he painted it red. In 2015 he told Anna Marco that "Every custom should be Candy Red with Tan or White accents. No other color. My first car was a blue 1941 Buick. I had to paint it red."[7] One of the other known cars Bill restyled in the 1940s was a near-new 1946 Ford coupe that he chopped. The Ford was later remodeled by Jack Florence, another Michigan customizer.[1]
After WWII, Bill and a one-legged buddy drove out to California on a Harley Davidson with a sidecar. Bill told Olav that they rode Route 66, spending 9 dollars and 30 cents in gas. While in California, they lived with a friend of theirs close to Redondo Beach. Bill told Teddy about the trip as well, and he recalls his uncle telling him that his forehead got all full of blisters and stuff as they were coming across the desert, "so he said, "the heck with it," he wasn't gonna drive back again." While his buddy turned around and drove back to Michigan, Bill got a job in a machine shop. When Fall came and Bill had gotten enough money, he bought a bus ticket and returned to Michigan.[5]
In addition to working with lead, Bill became quite good with the paint gun, and in the late 1940s, he worked at a Nash dealership in River Rouge, giving used cars new paint jobs. Vick Sawitskas owned the dealership. Vick's son Dick Dean used to hang out at the shop, and according to him, his dad's body men could remove and replace anything that unbolted. They could not do extensive bodywork, though, and an outside fellow who owned a tin building with a dirt floor did all the serious repair that called for replacing quarter-panels and lead work. That fellow was Bill. Bill let "Dick" hang around and watch him work, and he eventually taught him how to work lead, and do other custom tricks. In 1949, at age 16, Dick had a 1941 Hupmobile that his dad let him work on in the shop. After Dick had leaded and straightened the body on his Hupmobile, Bill painted it Vermillion. Richard "Dick Dean" Sawitskas went on to become a famous customizer on his own, and he eventually became known as the "Sultan of Chop." During his career, Dick supposedly chopped more than 1000 cars. Around 400 of these were 1949-1951 Mercuries.[8]
Teddy
It was Bill that got Teddy interested in cars. Teddy's parents got divorced when he was five years old, and he started hanging around his uncle's shop when he was about twelve years old. One day he stopped by the shop, Bill was busy painting a 1949 Mercury. "He was two-toning it down at the body line. My aunt was gonna go down and tape it off so he could paint the other color, but uncle Bill said, "Let Teddy do it! Teddy can do it!" So she stayed home and watched the kids while I went down and taped it off. He put the first tape on, and I had to fill it up with paper." The next time Teddy went over to Bill's shop, he was busy painting a 1949 Ford. Teddy recalls that he let it sit out in the winter, so the tape was hard to get off. "I had to peel all the tape off one inch at the time." The next project was a 1931 Ford roadster that Bill was painting the front frame rails on. "Here is a 400. Go sand it," Bill told his nephew. "That's what I did, and from then on, I kept doing it."[5]
"I'm a Worker, Not a Teacher"
"All you ever want me to do is sand, sand, sand. Just sand," Teddy told Bill one time he was pissed of and tired of all the sanding. Bill looked at his nephew and replied, "Well, what do you wanna learn to do?" Teddy told him he wanted to learn how to weld. "So, he took a wrecked fender that he cut in half, and he said, "OK, go weld that fender back together." Teddy welded it back together and put in a wise making a jump on it. "Finally broke it, but it broke about an inch away from my weld. He then looked at me and said, "You know how to weld, so go ahead back to sanding!" That was the end of my lesson." Bill told Teddy that he was a worker, not a teacher. "You wanna learn, you just watch me," so that's what he had to do. "But he was a good man," Teddy added. "He bought me lunch and breakfast. That was my pay." Not much to brag about, but Teddy would do it all over again. "I'd do it in a minute, you know!"[5]
Custom Bodywork
When Teddy started working for Bill in the Southfield shop, his uncle had three other employees working for him. "Bill, Henry, Dean, and me. We did insurance work or work for a used car lot, but his primary interest was custom work." Bill had employees that would do regular collision work and stuff like that. Bill liked custom work. "He didn't want to put a fender on or fix a bump in a quarter panel. He wanted to chop tops. Put fadeaway fenders on or french a headlight. That's where his interest was."[5]
One of the most famous cars to roll out of Bill's Southfield shop was Marty Ribits' 1934 Ford convertible. Marty bought the beaten-up Ford late in 1952. He wanted to turn the car into a head-turner, so he commissioned Bill to turn the rustbucket into a custom rod. Modifications included a 6-inch channel job, a 6 inch sectioned grille, a sectioned rear, and raised fenders. Once completed, Marty won the "Best Custom" award at the 1953 Detroit Autorama with the car. Bill continued to work on Marty's 34, and it eventually received 1955 Chevrolet headlights, extended front fenders, a custom pan, a brand new 322 Buick Nailhead engine, a black and white diamond tuck interior, and a gold paint job. The gold version, named "Golden Nugget", won the first place trophy for Altered Street Roadster at the 1958 Detroit Autorama.
Bill went through three different shops in Ecorse before moving over to a new shop on Lincoln Park, on Dix Toledo Highway. "The new shop could fit about five cars, and that's where he finished the Bat," Teddy added, recalling that Bill started working on the Bat in his Southfield shop. "Uncle Bill was doing that car for a customer. Then the guy lost interest in it. He had just started on it, and all the guy wanted was a chopped top." Teddy believed Bill moved to the Lincoln Park shop when he was about 13 years old, "about 1955 or 56." After the customer lost interest in the Ford, it became Bill's personal car, and he finished it off late in 1957.[5] Modifications included a 4 inch chopped top, frenched headlights, a 1951 Ford Meteor grille bar, and huge fins that incorporated 1956 Ford taillights. The completed Bat made its debut at the 1958 Detroit Autorama, and in 1959 it gained national recognition when it was featured on the cover of Rod & Custom March 1959. The story was titled: "Those fins are still growing." Fifty-six years later, Bill told Mark Vaughn that "Every one of my cars winds up with fins. I like the fins. I have 'em in all of my cars."
In April of 1958, Bill moved from Lincoln Park to California, bringing the whole family along in a house trailer that he pulled across the country behind the Bat. After arriving in California, he heads on over to Barris Kustoms with his radical Ford. At the time, George Barris, Bill Carr, and Dean Jeffries were out of the shop, showing the Aztec and the Kopper Kart on a national tour. Bill met a fellow named Gene Simmons at the shop. Gene was the manager at the time. He saw the Bat and asked Bill who did it? Bill told him that he had built it himself. This was a Wednesday, and Gene told Bill that he could use someone in the shop right now. Bill told Gene he could start on Monday, but Gene replied, "How about tomorrow?" Bill loaded his toolbox and started the next day. Sam Barris was gone by then. Junior Conway was just a prep boy, and Larry Watson took care of the paint department while George was away. George returned about three weeks later. He saw Bill working on a car, and he kept looking and looking. This went on a couple of days, not much said, as George was a fuzzy man according to Bill. But Bill was doing so good, and so fast that George was very impressed. Bill can't remember what he did first, but according to Larry Watson, he did all of the work on his 1958 Ford Thunderbird. After that, he got into the big ones, Dave Cunningham's 1940 Ford, Mitch Nagao's 1957 Ford Thunderbird, and Shirley Barris's 1958 Ford Thunderbird.
When Bill told Teddy he was working for Barris, Teddy went out to visit his uncle. "Back then, I was 14, and Barris, you know, everybody had heard about Barris!" Bill told Teddy that he thought he could land him a job there as well. "I got a job there, and I was making 40 dollars a week for 43 hours work, making 85 cents an hour as a painter's helper. I was only 14, you know, and it couldn't get any better working for Barris."[5]
Bill stayed in California for about nine months before he went back to Detroit in the fall of 1958. In 2014, he told Jim Legget of Driving.ca that "George didn't know me and gave me the brush off, so I went back to Michigan." In Michigan, Bill opened up another shop. He stayed all of 1959 in Detroit and built several custom cars there. One of the cars he restyled was Jerry Yacht's 1959 Chevrolet Impala. Named the Xcidian, Jerry's car was finished off with a Candy Apple paint job. According to Bill, this was one of the first cars in the Detroit area to ever be painted with that type of paint.[9] According to Teddy, the Impala was brand new when Jerry brought it to his uncle. "He molded the side pipes on it, did the hood, deck, door handles, and all that. Then he put the teardrop taillights in it." Bill also installed a 1960 Buick rear bumper on it before he gave it a Candy Apple Red paint job. Teddy believes Jerry's Impala received the first Candy Apple Red paint job in Michigan. "Uncle Bill was real good friends with Mike and Larry Alexander, so he went over there and showed them all the formulas and how to paint Candy Apple Red, and all the other colors. The blue. The Candy Gold. The Candy Tangerine. He gave them all the formulas and walked them through their first paint job. I think The Mroz Brothers' 1950 Ford were their first Candy Paint Job. I'm not sure if they did that or uncle Bill. It might have been the one uncle Bill taught them on. That car never got finished. They took it back to Chicago, and God only knows what happened to that car."[5] The Alexander Brothers also gave Sy Gregorich's 1955 Ford Victoria a Pearl paint job while working with Bill. In addition to the Candy Paint, Bill is also credited for being one of the first people to do molded-in side pipes.[9]
Back in Detroit, Bill helped Teddy restyle his 1954 Ford into the radically restyled X-Tremist. When Joey Ukrop interviewed Teddy about the car, Teddy said that he only wanted frenched headlights, rounded hood corners, a bar grille, and maybe split bumpers; "But I came home from school one day and went to the shop and he had the whole front end cut up with welding rod and tubing." Bill told Teddy he would front clip it if Teddy tackled the rear. "I always thought the front end was ugly, and he always thought my back end was ugly." Shortly after completion, the car was shown at the Detroit Artillery Armory in Oak Park. "I was completely broke. I didn't have any money to buy headlights or taillights." He scoured his uncle's shop for burnt-out bulbs to fill the voids. It wasn't a big problem Teddy told Joey, he was perfectly satisfied being a 16-year old with a car in a car show.[9]
No Brakes - California or Burst!
The warm California weather was calling Bill, and in October of 1960, he decided to close up his Michigan shop and move back to California. Teddy recalled that Bill had just built Jerry Yatch's 1959 Chevrolet Impala custom and sold The Bat before leaving. After selling The Bat, Bill bought a 1954 Buick. "The Buick was a stock car. All he did was paint it a white pearl just before he left for California." In Oklahoma, the brakes on the Buick went out, and they had to jack the car up, "with the trailer and everything on it." The brake line had rusted out, and Teddy and Bill had had to replace it before they could continue the trip out west. Bill with the Buick. Teddy, with his 1954 Ford custom, The X-Tremist. "When we got to California, we were coming down the mountains, and he had this homemade trailer with all the tools on it. I was following him down the mountain, but man, I couldn't keep up with him. When we got down to the bottom of the mountain, I said, "Man, uncle Bill, why were you going so fast?" He said, "I didn't have any brakes!" The brakes had gone out from all of the weight of that trailer with all of his tools in it. You know, it was just a stock 54 Buick, and the brakes got hot, so he had no brakes going down that mountain, so I couldn't keep up with him," Teddy chuckled.[5]
Bill and Teddy went to work for Barris Kustoms again, but as George wouldn't pay Bill more than $100 a week, he went on and opened up his own shop on the side working at night. The shop was on the same property as where Eddie Martinez ran his upholstery shop in Lynwood, and they shared the same lot. "They had a big, big parking lot," Teddy recalled. "On the right-hand side was Eddie Martinez shop. And then to the left-hand side was Uncle Bill's shop." Teddy believed Bill could get about five cars in his shop. "But, in California, half the work is done out on the pavement. You know, they work outside. It's nice and sunny and Uncle Bill would put hydraulics in and everything sitting out in front of the shop, not in the shop."[5]

When George found out about Bill's new venture, he pulled him aside and asked if they could talk. "I hear you opened up a shop," George told Bill. According to Bill, George was pretty hot-headed in those days, and he told him he couldn't make it. Bill did make it. And he spent the next 23 years in the building running Bill Hines Kustom Auto. George had respect for Bill. They were still friends, and Bill continued to do some sub-contracting for George when the shop was busy. They were very competitive, and according to an interview that Bill did with the Rodder's Journal, George kept Bill's work out of the magazines, keeping him from getting recognition. George never stepped on Bill's toes though, and according to the interview, he never took credit for any of his work.[10]
The first time Teddy went to California, he stayed with his uncle and his family in a trailer park. Bill sold the trailer when he came back to Michigan in 1958, and in 1960 they first lived in Compton for about eight or nine months. "Then in 1961, he bought a nice house out in Garden Grove. A nice house with a pool in the backyard. It was right by Disneyland in Anaheim, and every morning when me and Uncle Bill would go to work, we would have to go underneath the Disneyland Monorail that took you from the park to the hotel."[5]
The Godfather of Hydraulics
In 1962, after meeting Ron Aguirre and his hydraulic lifted X-Sonic bubble top Corvette, Bill went on to install a full hydraulic lift system on Tats Gotanda's 1959 Chevrolet Impala. A well-known custom named the Buddha Buggy. Bill was now at the forefront of an emerging trend, and he became one of the first installation shops of hydraulic lift systems in Southern California. Bill perfected the trade and installed hydraulics on several cars, eventually earning the nickname "the Godfather of Hydraulics." Technical Lowrider Magazine did a story on Bill in 1981. In the interview, Bill told Chalo Lafuente that some of his latest hobbies included restoring antique cars back to original, and converting Cadillac Sevilles into 2-door convertibles using a hydraulic system to retract the ragtop. He also told Chalo that he had stopped installing hydraulics due to the increased cost of parts and labor. While most shops and builders began using bondo and fiberglass, Bill stuck to his beloved lead, and as long as he lived he considered bondo poison![11]
In 1983 Bill moved his shop to Bellflower. According to Teddy, his uncle didn't get a lot of notoriety up until 1989. People in the area knew him for his lifts, but Bill's custom days had become a faded memory for most people. "Then, in 1989, his son Mikey gave him a Buick Riviera, so he had something to drive back and forth to work in. A real nice Buick that was only a few years old. Well, then Uncle Bill got the idea he wanted to paint it a Candy Apple Red." Things snowballed from there on, and the next time Mikey came by the shop, his father was busy chopping the top on the Buick he had given him. "After Bill got the top primered he said, "I might as well put a set of fins on it." He always liked fins and decided to add fins and teardrop taillights on it like a 59 Chevy. "Then he said, well I went this far, I might as well do the front end and put side pipes on it." After Bill had given the Buick a Candy Red paint job, Mikey suggested they should take the car to a show. "So he drove it to one of Jerry Titus's KKOA shows." Bill and the car got a lot of attention at the show, so Mikey went ahead and had some decals and t-shirts of Bill as a cartoon character printed up for their next show. Surprised about how well the t-shirts sold, Bill had some calendars made up and began selling his merch at many of the major custom shows.[5]
Recognition
In 1988 Bill was inducted into the West Coast Kustoms Hall of Fame. In 1992 the '41 Bat was named "Custom Car of the Year" by Kustom Kemps of America, and in 1996 Bill was also named International Show Car Association Builder of the Year. [12] In 1997 he was inducted into Darryl Starbird's National Custom Car Hall of Fame.[1]
Around 2000, Bill started taking annual trips to Michigan in the summer. He stayed with Teddy, who always had lined up some custom work for his uncle. "He was a worker. He just liked to work, so I would line up cars to chop for him, so he could have something to do while he was here. One time he chopped a 37 Ford Phaeton, he chopped a 50 Ford convertible - He would do all the top bows and stuff. He also chopped a 40 Ford Convertible." Every year Bill would build another car that he would bring back to Michigan, and for 14 years in a row he came back and did some work on cars, "one at a time." Bill never got on an airplane in his life, and every year Mikey would drive him to Michigan and fly back home. "And then two weeks later, or three weeks, whatever the time limit, he would fly back here and drive his father home."[5]
Mikey
According to Teddy, Mikey deserves a lot of credit for promoting his father. "If it wasn't for Mikey, Uncle Bill probably would have stayed hidden away in his shop working on cars until he passed away. Mikey put him up on the front row, and Bill really liked it. Uncle Bill would go to shows, set up a little table and a chair, and sign autographs. Mikey would drive his father to the show. He would get up like seven in the morning, polish the car, clean it all up, and take his dad to the show. He really looked out for his father." Mikey would also help out in the shop. "He sold cars at a dealership, and he would get up at like two in the morning. He would go down to his dad's shop, sand a car and get it ready for paint, then take a quick shower and go to work. Then he would come home after his dad had painted it and color sand or whatever work it needed." According to Teddy, this went on for years.[5]
In 2002 Mikey was working on a book about his dad titled Custom Cars from Planet Hines.[12]
in 2004 Jesse James invited Bill and Mikey to join an all-star team of old-school builders on his popular Monster Garage television show. The father and son duo teamed up with legends such as Gene Winfield, Dick Dean, and Norm Grabowski to help Jesse James customize an [[old-school 1954 Chevrolet in front of thousands of hot rod and custom car enthusiasts from all over the world. Entering the show in a clone of his old Bat, equipped with a cigar, a new generation of custom car builders now got their eyes up for the old cigar-smoking custom pioneer.
83 years old, Bill was named the Builder of the Year at the 2005 Detroit Autorama. He was on hand to receive accolades for his contributions to the art of customizing, and five of his creations were displayed at the show. One of the cars was the newly restored Marty Ribits' 1934 Ford cabriolet, the Golden Nugget. The current owner Larry Jordon completed the restoration 3 days prior to the show.[13]
The Last Leadslinger
Bill and his cigar had now become a popular attraction at custom car shows all over the US, and you would often find him with a crew of workers chopping a top in front of a live audience at the shows he attended. Bill never moved from the house he bought in Garden Grove in 1961. He was a hard worker, and up until 2015, you would usually find him in the shop, working seven days a week. The same year he told Mark Vaughn of Autoweek that he would never consider retiring; "Noooooo, noooo. That's what keeps me goin'. I'm 94 years old! What am I going to do, lay in the bed? Ha ha! Get up and eat an' lay back in the bed? No, I'll have a garage long as I live. Period." Later that year, in December of 2015, he had a mild heart attack. The doctors kept him in the hospital for a few days for observation, before he got back on his legs again and could return back home. 5 months later the light went out off the cigar, and Bill passed away peacefully in his home on May 20, 2016. 94 years old, Bill passed away only 6 months after his good friend, old boss, and competitor George Barris.[14]

Bill Hines was a colorful person, and there are many stories floating around about him. According to Teddy, he was very set in his ways. "If you pulled up in a 55 Chevy, and he said that it was a 54 Ford. That's the way it had to be. You couldn't tell him you know, it was a 54 Ford. That's the way it was, and you know, most of the times, I hate to admit it, but he was right," Teddy chuckled, admitting that he was a good man. "A very good man!" He loved a challenge, and if someone stopped by the shop one day telling him that he couldn't get his door to close on his 1934 Ford, Bill would drop everything and get that door to close. It didn't matter if he was working on a good paid insurance job, "that 10 or 5000 dollar insurance job wasn't that important. Getting that door to close was a lot more challenging and a lot more important to Uncle Bill." Teddy told Sondre that Bill also had his own remedies. "He had arthritis. And every day he would spray WD40 on his joints. On the elbows, his shoulders, his knees, and stuff." Teddy thought his uncle was crazy, but after Bill passed away he read in a magazine that WD40 actually was good for arthritis, "and I thought: Wow, Uncle Bill was a doctor and a chemist all in one!"[5]
The Torch has Been Passed
Bill's grandsons, Matthew, Mitchell, and Michael have spent several hours with their grandpa in his shop, while Bill has been passing his talents on to them, learning them the tricks of the trade. Brad Masterson is another apprentice that Bill took under his wings, so even though the Leadslinger is long gone, his legacy and traditions are kept alive by a new generation of customizers.
Bill Hines' Personal Cars
Bill Hines' 1941 Buick Convertible
Bill Hines' 1950 Ford - Lil' Bat
Bill Hines' 1957 Lincoln
Bill Hines' 1980 Buick Riviera

Cars Restyled or Painted by Bill Hines
Marty Ribits' 1934 Ford - The Golden Nugget
Jerry Yatch's 1940 Mercury
Dick Dean's 1941 Hupmobile
Tom Rodriguez' 1947 Ford
Johnny Shredder's 1949 Ford
Bill Hines Bat
Jim Contreras' 1950 Mercury
Brad Masterson's 1951 Chevrolet Fleetline
Steve Lininger's 1951 Ford Convertible
Mark Drews' 1953 Chevrolet Bel Air
Jesse James' 1954 Chevrolet 210 - The Old School Chevy
Teddy Zgrzemski's 1954 Ford
Sy Gregorich's 1955 Ford Crown Victoria - The Victorian
Anna Marco's 1955 Studebaker
Bob Nugent's 1956 Chevrolet 210 Hardtop
Dave Robertson's 1956 Ford F-100 - Lil Nugget
Terry Travis' 1956 Ford
Pinky Richard's 1957 Chevrolet Corvette
Rich Pichette's 1957 Chevrolet Sedan Delivery
Tats Gotanda's 1959 Chevrolet Impala - The Buddah Buggy
Jerry Yatch's 1959 Chevrolet Impala
Bill Hines' 1960 Chevrolet El Camino
Richard Mikami's 1961 Chevrolet Impala - The Ant Killer
Richard Zocchi's 1964 Buick Wildcat
Alexander Ruelas' 1965 Chevrolet Impala
Milton Mills' 1965 Chevrolet Impala
Nick Daneri's 1970 Chevrolet Camaro

Cars Featuring Hydraulic Lifts by Bill Hines
Teddy Zgrzemski' 1957 Chevrolet Nomad
Richard Zocchi's 1964 Buick Wildcat

Cars Restored by Bill Hines
Larry Sanford's 1940 Mercury 4-door Convertible

References
Sources
Barris Kustoms Of The 1950s
www.billhinestheleadslinger.com
The News Herald
www.customrodder.com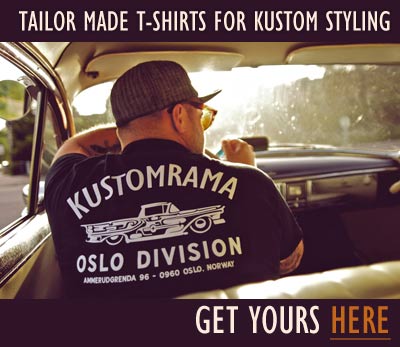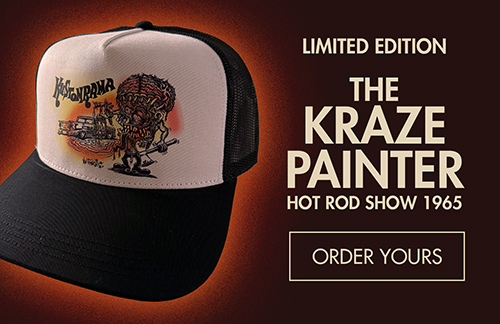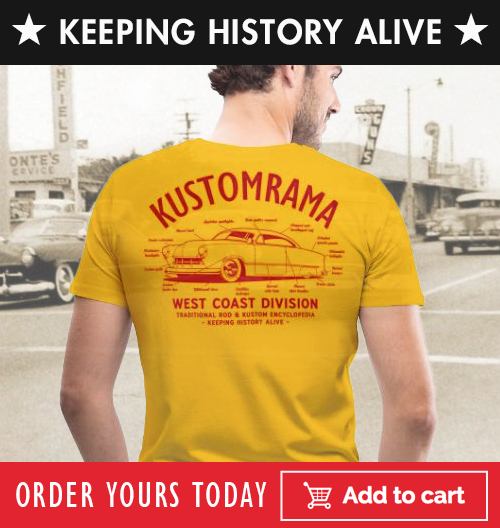 Did you enjoy this article?
Kustomrama is an encyclopedia dedicated to preserve, share and protect traditional hot rod and custom car history from all over the world.
Can you help us make this article better?
Please get in touch with us at mail@kustomrama.com if you have additional information or photos to share about Bill Hines.



This article was made possible by:
SunTec Auto Glass - Auto Glass Services on Vintage and Classic Cars
Finding a replacement windshield, back or side glass can be a difficult task when restoring your vintage or custom classic car. It doesn't have to be though now with auto glass specialist companies like www.suntecautoglass.com. They can source OEM or OEM-equivalent glass for older makes/models; which will ensure a proper fit every time. Check them out for more details!

Do you want to see your company here? Click here for more info about how you can advertise your business on Kustomrama.