Gene Winfield
From Kustomrama
Robert Eugene Winfield (June 16, 1927) is a legendary American custom car builder, painter, designer, and dry lakes racer. Known as "Windy" amongst friends, Gene began restyling cars in a chicken coop behind his mother's house at 1309 Figaro Avenue in Modesto, California after WWII. 73 years later he is still running Winfield's Custom Shop. The shop has been relocated to Mojave, California, and Gene is touring all over the world chopping cars and laying down his signature fadeaway paint jobs. He has been inducted into Darryl Starbird's Custom Car and Hot Rod Hall of Fame, and was honored as "Builder of the Year" at the 2008 Detroit Autorama.
Gene was born June 16, 1927 in Springfield, Missouri. 18 months old, he moved to Modesto, California with his family. His father Frank had been a butcher in Missouri, after moving to California frank worked as a butcher for a while, before he built himself a hamburger wagon. The wagon was an old truck chassis with plywood sides, and the business was called "Frank's Nickle Lunch". Gene's parents were later divorced, and his mother Virginia took over the lunch wagon and renamed it "Modesto Nickel Lunch". After the city closed down Ginny's lunch wagon business, she purchased a property and built a full-service sit-down version of her lunch wagon. All of the Winfield children had to work at Ginny's lunch bar, and 10 years old Gene started his career as a carhop.[2]
Gene's First Car
Before Gene started to build cars, he was very into building and customizing model airplanes, and photography. Wherever Gene went, he brought his camera, taking pictures of customs on the street. If he saw an automobile that had been modified, no matter how small the modification was, he took a photo. He had the photos developed at the local drug store. It usually took more then a week before he had his photos on paper, but once he got them, he studied the photos over and over again, picking up what looked good and not. His friend Bart Bartoni had the same interest, and Gene and Bart used to exchange and discuss their photos. 15 years old, before getting his driver license, Gene bought his first car, a 1929 Ford Model A Coupe. Gene fit the car with two antennas, foxtails, and wig wag taillights before he hopped it up so he could go street racing with it. The Model A Coupe was the first car that Gene ever painted. When he got it was black, but Gene painted it dark blue instead. One day, a taxi pulled out in front of the Model A, and the coupe was wrecked. After the coupe, Gene bought himself a 1931 Ford Model A Roadster. If you wanted to be a true hot rodder in California, you had to have a roadster.[2]
The Conrad Special
While growing up, Gene's father Frank was a friend of the owner of Conrad's Auto Body in Modesto. Conrad owned a car called the Conrad Special that was built in his shop and featured a loaded Ford flathead V-8 with 4 carburetors and stack sticking through the hood. In his younger days, Gene drove the car to Los Angeles for Conrad. Conrad wanted to sell it, and had Gene drive it to Gary Cooper and Keenan Wynn's house.[2]
Gene joined the navy right after graduating from high school in 1945. The World War II was still going on, and the government had a program in which enlistees could serve the duration of the month plus six months. The war ended 6 months after Gene joined the Navy, so his career in the Navy ended after a year. Back in Modesto, Gene wanted to start customize cars instead of just taking pictures of them, so he began working on cars in a little chicken house behind his mothers house at 1309 Figaro Avenue. The "shop" was about 20 feet by 35 feet, and had a dirt floor. One of the first cars that Gene modified in the shop was his brother Frank Winfield's 1941 Plymouth. Gene chopped the top and windshield 3 inches, before he sent it to Hall Upholstery for a Carson style top. Working on his own and on his brothers car in the chicken coop, he started to get calls from friends wanting him to work on their cars. In the beginning Gene was just doing simple modifications such as lowering suspension and shaving emblems. As business were picking up Gene also started doing more work like changing grilles, modifying headlight and taillights, and eventually chopping tops. One of the first cars Gene did extensive custom body work on was Alvin Serpa's 1946 Ford Convertible. Before Gene moved out of the old chicken coop he had expanded the shop three times, added a spray booth, and hired some employees.[2]
In 1946 Gene Winfield, got together with some local hot rodders and formed the Modesto Century Toppers Auto Club. Gene was voted president of the Modesto Century Toppers at the first club meeting.[2]
Hot Rods and Racing
With Windy's Custom Shop up and running, Gene wanted to finally build himself a real hot rod. He sold his 1931 Ford Model A Roadster around 1948, and bought himself a 1927 Ford Model T Roadster instead. Hot Rod Magazine had just hit the stands, and as a dealer Gene got 6 copies to sell each month. Using the magazine as a reference Gene built his first complete hot rod based on ideas from the cars he saw in Hot Rod Magazine. After completing the build, Gene entered it at the first National Roadster Show in Oakland. At the show, Gene met Harry Westergard. As a young student of auto-body customizing, Harry Westergard and Dick Bertolucci were the customizers and hot rodders that inspired Gene most.[2]

Around 1949 Gene started racing in sanctioned events at the dry lakes. He had converted his 1927 Ford Model T Roadster into a lakes car. May 7, 1949 he towed the car to El Mirage to see how fast it would run. Before the meet Gene had brought his roadster to Alex Xydias' So-Cal Speed Shop in Burbank and talked to Doane Spencer about setting up the car. At El Mirage, Gene clocked his roadster at 112.35 mph on his first run. He got back in line, and on his second run he went 121.45 mph. On July 16, 1949 Gene ran under the name Don L. Breidenbach. Don was a member of Alex Xydias' Sidewinders club, and as he didn't show up for the meet, Gene ran under Don's name so the Sidewinders could earn club points. Gene turned 124.3 mph that weekend. While running his shop, and racing his roadster Gene began to collect parts for another car. He wanted to try something new, and decided to build a 1927 Ford Model T Coupe known as The Thing. Everybody was racing roadsters, so Gene wanted to be different. Once completed, The Thing was clocked at 135 mph at Bonneville.[2]

In addition to illegal drag racing, and dry lakes racing, Gene was also very active competing in jalopies at local tracks, holding a NASCAR license from 1951 to 1953. His first jalopy racer was a 1934 Ford Coupe. After that he had two 1937 Ford sedans, two 1937 Ford coupes, and two 1939 Mercury coupes. He would usually buy an old car for $25, gut it out, fabricate a roll bar, and install a single seat and seatbelt. Power was usually provided by a stock Ford Flathead with shaved heads, increased float level and jet size in the carburetor, and an advanced timing.[2]
The Tokyo Years
In late 1949, Gene closed his shop, and reported to the U.S Army. He was stationed at Fort Ord near Monterey, California, about two hours from Modesto. While on leave Gene would go to Modesto in order to work on and race his roadster. In late 1950, the army shipped Gene to Japan as a trained cook, but when he arrived, he was placed in charge of the battalion hobby shop instead. After arriving, Gene ordered all of the necessary items to open a hobby shop for his battalion. At night he would teach classes in leatherwork, model airplane building, and copper tooling. He also included a photo lab, so he could learn how to process film. While putting the hobby shop together, Gene and three other GI's came together and rented a small shop in the city where they started building cars. After opening the shop, they hired a Japanese metal man. Not able to pronounce his name, the only called him "Hammer Happy". Hammer Happy earned $6 a day working for Gene and the other GI's. In the shop, they built 4 cars. The first was a little sports car with a Crosley engine. The second was a full-size sports car based on a 1939 Ford convertible with a loaded flathead and stepped frame, front and rear. The third car was a half-chopped and half-sectioned 1941 Ford coupe that they installed 1946 Ford] fenders on. Gene raced the 1941 Ford in the first stock car event ever held in Japan. The fourth car they built in Japan was a 1941 Ford convertible that they hand formed new front fenders, hood, and a grille for out of sheet metal. Working with the young Japanese craftsman, Gene learned how to do fine hammer-welding, sheet metal shaping and metal-finishing. Prior to that Gene was welding up panels before he leaded the joints with a lot of lead. In late 1951 Gene returned from Japan, and went back to work in the old chicken coop. Business was a little slow in the beginning, but eventually friends found out that Gene was back, and work started filling up. When Gene reopened his shop, he decided to change it's name from Windy's Custom Shop to Winfield's Custom Shop. Back in business Gene decided to focus on his business, and wasted no time getting back into racing.[2]
Gene's First Custom
After returning from Japan in late 1951, Gene decided to focus more on his shop, and less on racing. As a part of this, he felt that he had to build a custom car for himself that could represent his shop and what he did for a living. He ended up buying Peter Hischier's 1950 Mercury that he had previously nosed and decked for Peter. Peter worked out in Gene's shop on Saturdays, and instead of getting paid, Peter traded his labor for shop labor. Gene began immediately to turn the car into a mild custom, by frenching the headlights and installing a custom floating grille bar.[2]
The End of Gene's Racing Days
In 1953 Gene got married, and he quit racing altogether.[2]
The Winfield Fade
In 1957 Gene Winfield came up with his famous faded, blended candy paint job technique. The technique was discovered after he tried to blend two candy colors together. The faded paint job is a trademark of Gene Winfield, and he has been traveling all over the world laying his famous paint jobs.
In 1958 Gene Winfield built the Jade Idol, the car that helped Gene gain national recognition. The Jade Idol was based on a 1956 Mercury, and took Gene two years to build.
Magazine Work
Gene took magazines for several magazines in the 1960s, including Custom Rodder.[3]
In 1962 Gene was hired by AMT as a style designer for model kits. Gene worked on a consultant basis until 1966 when he was hired full time to run their new Speed and Custom Division Shop. In the Speed and Custom Division Shop Gene built full scale cars for AMT which would be used as promotional vehicles.

Working for AMT, Gene made connections with Hollywood and started making cars for movies and television series. Among the lengthy list of creations are the Maxwell Smart car from "Get Smart," The Reactor, built for the "Bewitched" TV series, and even the shuttlecraft for "Galileo 7" (the Enterprise's scout ship) from the "Star Trek" series.

In 1970 Gene Winfield decided to open his own shop in North Hollywood, to be close to the movie industry. Gene called his new shop Winfield's Special Projects. Winfield creations have also found their way into more than 20 Hollywood films, including "Bladerunner," for which he built 25 vehicles, "Robocop" and "The Last Starfighter." He also created the flying version of the Delorean time traveler for "Back to the Future."

After connecting with Hollywood and the movie industry, Gene also started to work with advertising related vehicles. Manufacturers Hanover Trust Co. wanted to convey the point that they could finance any car. So, Winfield built the "anycar" ... out of 30 different cars. For Chevrolet, he cut a car in half lengthwise and made both pieces independently driveable. For Sunoco, Winfield froze a car in giant block of ice only for it to be chipped out and started. The list goes on.

In 1974 Gene closed his shop in North Hollywood, and began working for Traditional Coach Works in Chatsworth. In 1977 Gene quit working for Traditional Coach Works, and he opened a small shop in Van Nuys. In his new shop, Gene continued building late model customs. By 1979 Gene had moved his shop to Canoga Park.
The Brancusi of the Custom Car World
Noted author John DeWitt considers Gene Winfield as the Brancusi of the custom car world; "Brancusi, noted for his profoundly simple structures like the Bird in Space series, believed that "simplicity is not an objective in art, but one achieves simplicity despite one's self by entering the real sense of things." In 2002 John published the book Cool Cars, High Art: The Rise of Kustom Kulture. In the book, the Jade Idol is used as an example, and John describes it as "the apotheosis of an American production car envisioned as pure form. Created during a period of unrestrained expression, it is defined as much by what Winfield doesn't do as what he does."[4]
In 2011, Kings of Kustoms released a 90 minute long documentary on Gene Winfield. Kings of Kustoms - Gene Winfield was the first episode in a planned series of DVD's documenting the visionaries that created the uniquely art form of customizing. The first episode featured an in-depth look at the life, cars, and history of Gene Winfield. Through the documentary we get to know the real Gene Winfield as we follow him race through the El Mirage dry lake at 200 miles per hour, build hot rods, custom, show and movie cars, paint his signature fade paint jobs, charm girls and dream about his next creation. Click here to purchase a copy.
In September of 2018, Gene attended the Yankee Car Show in Lahti, Finland where he was chopping the top on Qvintus Brusefält Ån's 1949 Chevrolet live at the show. During the show he suffered a bad fall, breaking his hip. After surgery, he came down with pneumonia. Due to some pre-existing medical conditions, oxygen use, and the requirements of healing from the fall, Gene was not able to fly commercial after the accident, and he was stranded in Finland. After the accident, a GoFundMe campaign was launched in order to raise enough money to fly Gene safely back home. Created October 10, 2018, the goal of the campaign was $150,000 USD. October 12, two days later, $89,305 USD had already been donated by custom car fans and supporters. The same day the goal was reduced to $98,000 USD due to reduced transportation needs, and the goal was met later on the same day. October 28, 2018 Gene returned safely to the US after a month's stay in the US. The trip home went smoothly and without complications.[5]
Late January of 2021, Gene released a book about his racing days titled Gene Winfield's Racing Days Scrapbook. The 120-page book was announced on Instagram, and it was offered for sale on Gene's webshop at www.winfieldscustomshop.com.
Gene Winfield's Historic Mojave Shop Up for Sale
September 4, 2023, Gene announced on Instgagram that he had decided to part ways with his iconic Mojave shop. " I am leaving Mojave," he wrote, adding that he still would be doing his workshops and appearances. "So don't worry about me I'm very excited for my next adventure. Look out, I'm just getting started!"[1] The shop, located at 8201 Sierra Highway in Mojave, California, was listed for sale on Redfin. The property, spanning over 5 acres, was priced at $595,000. It features a vast workshop area with over 10 enclosed bays, office spaces, and a residential section. Click here to check out the listing ad.[6]
The Auction
When Gene announced the new venture on Instagram, he also told that there would be an auction where he would be selling a bunch of good stuff. "Nothing from my museum or my special tools will be available."[1] The auction will be held October 7, 2023, during the 16th annual Winfield-Watson Gathering car show.
Recommended books about Gene Winfield
Gene Winfield's Personal Rides
Gene Winfield's 1927 Ford Model T Roadster
Gene Winfield's 1927 Ford Model T Coupe - The Thing
Gene Winfield's 1929 Ford Model A Coupe
Gene Winfield's 1931 Ford Model A Roadster
Gene Winfield's 1932 Ford Roadster
Gene Winfield's 1933 Ford Truck
Gene Winfield's 1935 Ford Shop Truck
Peter Hischier's 1950 Mercury
Gene Winfield's 1950 Mercury - The Solar Scene
Gene Winfield's 1956 Mercury
Gene Winfield's 1958 Chevrolet Impala
Gene Winfield's 1961 Cadillac
The Reactor
The Strip Star

Cars Restyled by Gene Winfield
Click here to see cars restyled by Gene Winfield at Winfield's Custom Shop
Additional Information
Gene Winfield Master Car Builder Video Interview On E-Rider

References
Sources
The Legendary Custom Cars And Hot Rods of Gene Winfield by David Grant
Classic Customs and Lead Sleds by Bo Bertilsson
www.rodandcustommagazine.com
www.jalopnik.com
www.lvrj.com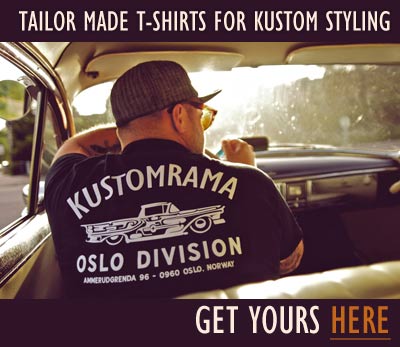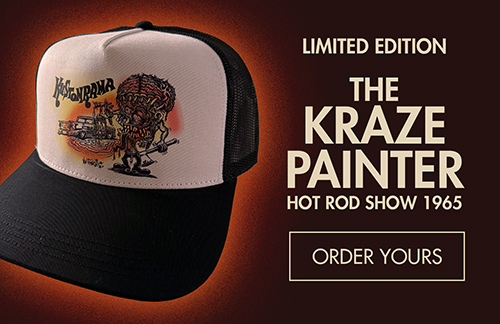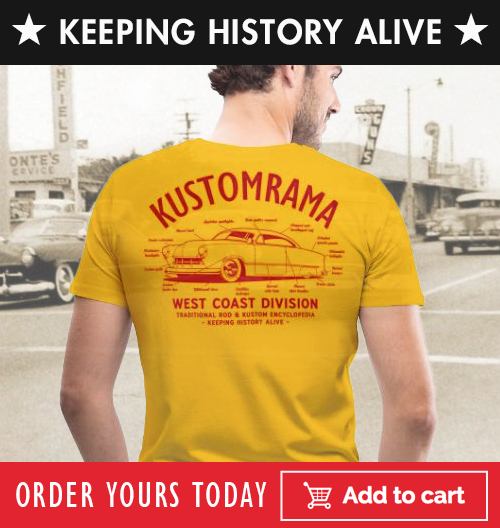 Did you enjoy this article?
Kustomrama is an encyclopedia dedicated to preserve, share and protect traditional hot rod and custom car history from all over the world.
Can you help us make this article better?
Please get in touch with us at mail@kustomrama.com if you have additional information or photos to share about Gene Winfield.



This article was made possible by:
SunTec Auto Glass - Auto Glass Services on Vintage and Classic Cars
Finding a replacement windshield, back or side glass can be a difficult task when restoring your vintage or custom classic car. It doesn't have to be though now with auto glass specialist companies like www.suntecautoglass.com. They can source OEM or OEM-equivalent glass for older makes/models; which will ensure a proper fit every time. Check them out for more details!

Do you want to see your company here? Click here for more info about how you can advertise your business on Kustomrama.