Keith Christensen
From Kustomrama

Keith Christensen of Norwalk, California.
Keith's father was a Doctor veterinarian and he did work in Norwalk and the adjoining town of Artesia. Keith had an older brother who hung around with a group of Dutch brothers, the Goedharts. In 2016 Keith told Kustomrama that his dad had built a good sized workshop at their home; "Dad was a lover of blacksmithing, so he had torches, lathes, tools and more. Myself and two of the Dutch brothers would go to every old wrecking yard, as in 1950 there were many here in California. We would buy the inside of a 1936 Ford driveshaft, as the shaft was enclosed in a closed driveshaft housing, called a closed driveline. The actual driveshaft was tapered on either end and had a u joint attached on each end. We would cut the u joints off and cut the driveshaft right in the middle , giving us two equal pieces that both tapered on one end, so the shafts started at 3 1/2 and after 20 inches tapered down to the hollow end that where the u joints had been removed, which had a 2" opening. The 3 1/2 end we would go around it heating in with a torch and tapping it down to a nice bevel, leaving a 2 1/2 opening. That gave us a small end and a large beveled end helped to make the famous motorboat sound that was heard on all good custom cars. We of course had them chromed and they had to be welded on to the cars exhaust outlet, just under the bumper. They were 14 gauge so a low rider could scrape up a driveway without hurting them." According to Keith, this is where the famous name "Driveshaft Tips" came from; "Myself and two Dutch kids invented the Driveshaft Tips and couldn't find enough 1936 Ford driveshafts to make enough for the waiting line of guys that wanted them. Keep in mind, I was 13 years old at the time. My Dad's workshop is where we cut and beveled them. Later on, when I opened Genes Muffler, I realized there were few if any 1936 Ford driveshafts. The supply had dried up, so I started making them out of 16 gauge tubing and putting a taper on the one end with a swedger that I had dies made for. Perfect as one end had a short taper and the other a real nice bevel."
First Car
Previous to the days of high school and dating, Keith owned many cars, but his first real car to enter the social world was a 1950 Oldsmobile Business Coupe; "It was when Chevrolet was just 6 cylinders, Fords were flatheads or low horsepower OHV engines. The Olds was truly the fastest of the cars in my day as a stock equipped car. Pure stock it was sure fast and a lot of tickets later I learned how to control it. Kettering designed the engines and they were used in Cadillacs and Oldsmobiles. "
When Keith was in high school, he was working part time at an automotive adaptor manufacturing facility just north of Moon Equipment; "I was working at Hildebrandt mfg. A small personal activity I crammed in to my busy high school world. They made engine adaptor plates for installing the big Chrysler Hemi's in to Chevy, Ford and all else. The adpaptor plates were machined aluminum plate with holes drilled to match up to many different transmissions. A truly fascinating business for me. Dennis Hildebrandt belonged to the Qualifiers car club, a group of older hot rodders that built and drove some very exotic cars for their time,"
Keith was the first President, and a founding member of the Norwalk Coachmen car club. In 2016 Keith told Kustomrama that the club started in the living room of his folks home in Norwalk in late 1952; "Norwalk is south east of Los Angeles, approximately 22 miles. It was an area of farms and dairies, which of course have faded due to rural buildup. This is why you will see many names of the two dominate nationalities, Dutch and Portuguese, as owners of many hot rods and low riders."[1]

"We flourished and expanded the club to other communities and had a total membership of 135 members in 1956. At that time I stepped down after being President for all of those years. I went off to College and the car club finally disbanded in 1958."[1]
The Norwalk Motorcade was an outdoor hot rod and custom show sponsored by the Norwalk Coachmen car club. According to Keith, it was inspired by the club, and the show became known as the Coachman Show. It was held with help from the Norwalk Jr Chamber of Commerce. The first show was held in 1954 at Excelsior High School in Norwalk, California. Keith was the Director of the show, and it became a huge success; "We promoted it and developed a lot of contacts. We held it on the grounds of the high school we all attended, Excelsior High School. The show expanded to encompass all of the grounds on all sides and brought a huge crowd, as we drew in entries for many communities in the outlying areas. This was the babyhood of car shows. No one had 'yet started doing this as the customizing era had just started and we were groundfloor. In it's peak, we had displays from all of the local car dealers, the Army National guard, the Motorcycle shops and many others, about 4 acres of show grounds. I was able to get our club member who was a photographer to film much of the shows. We even got him a ride in an airplane to fly over and film for the air." Working for Dennis Hildebrandt, Keith had rubbed elbows with the members of the Qualifiers car club, so he used some of their cars to enhance the Motorcade show; "They helped add that quality touch to the shows."[1]
Keith was good friends with Von Dutch as he used to hang around his shop regularly. He had George Barris lower his 1955 Buick as George and his brother Sam had their shop right down the road from Von Dutch. According to Keith; "Sam was the master builder and George was the front man."
In 1958 Keith had just gotten married. He was in College and worked at a Supermarket; "I took my bosses 1956 Ford truck and my 1955 Ford truck to a tiny shop where my younger brother started working. Aman in the Jr Chamber, who sponsored the Coachmen car club, had a muffler shop in Norwalk. A short distance by the way from where Sam Barris lived. He gave my younger brother a job sweeping and cleaning his muffler shop, called Sport Muffler. My brother learned the muffler trade and in my getting acquainted with Gene, I got him a job there. It was called Gene's Muffler. Located on the border of Paramount and Bellflower, the shop was an old real estate office and a two car garage that Gene had put a pit with a couple of racks in between. Coming in to that little shop, I noticed Gene was doing great and I told him if he ever wanted to sell the shop let me know. He was driving a fairly new 1956 Ford pickup, had a wild ski boat and a new car for his wife. Not bad for a young man!"

Later on Gene got in trouble with the sales tax department and needed money; "I hocked everything and paid $3,500.00 for the shop. The name had a good reputation so I just kept it. Later I bought the land next door and built a very large muffler shop that could do 6 cars at a time. In the front building I put a tire and wheel company and a small manufacturing building in between. It did great so I put shops in Downey and Hollydale, two cities nearby. We did all of the lowering and lifting of cars and installed dual exhaust on thousands of cars over that period. In his youth, without a beard or styled hair, Larry Watson moved in to a building directly across the shop area from my original muffler, customizing shop. There he took on his aura of beard and styled hair.''
Keith started building Driveshaft Tips and Bed Rail Pipes. He developed a manufacturing division, and after seeing how llifted cars were dragging up driveways, Keith got the idea to put a 90 degree elbow pipe on the front of his driveshaft tips; "I chromed the whole thing, that let us put them on the outside of the fenders, just behind the tires. Since I was next to the town of Bellflower, where I lived, I called them Bellflower Chrome Tips! The name stuck with them to this day," Keith told Kustomrama in 2016.
Lifted Sedan Delivery
In 1961 Keith had a 1959 Chevrolet Sedan Delivery that Doug Carney of Downey installed hydraulic lifts on; "I had a shop in Downey at the time. Doug got his parts from Douglas Aircraft Surplus. Later on he went to Palley's to buy parts for many of his lift jobs, as they were a giant aircraft surplus store in Los Angeles. When you bottomed the Chevrolet, a pack of cigarettes would not fit under the front. Larry Watson painted it a Murano Pearl Yellow with Goldleafing in the inserts on the sides. I had an aircraft company friend of mine that upholstered airplanes, do the interior in a chocolate. The sedan delivery was my daily driver and a bunch of fun to drive as you could lower while driving. That year Chevrolet had a real wide flat hood and it really looked wild on the highway."
For his other shop, Action Mufflers, Keith built a 1949 Chevrolet Sedan Delivery. The '49 was Lavender and fixed up much the same was as the 1959 Chevrolet Sedan Delivery.
The Phone Company Truck
In 1962 Keith bought a 1956 Ford phone company truck with a box on the back that he built into a delivery truck. Larry Watson painted it Pearl Yellow and Keith installed wheels and a big motor.
In 1963 Tom Kelly designed a logo for Keith; "Tom specialized in large murals and pinstriping on motorhomes and big trucks." Tom designed a logo containing two glass packs crossing inside an Iron cross, and Keith had it made in to decals, jackets and shirts. He also painted it on the doors of some of his shop trucks.
In 2016 Keith lived in Lake Havasu City, Arizona where he spent much of his time writing articles for some local newspapers. 78 years old he was going strong with more projects than ever. No time to retire.
Keith Christensen's Cars
Keith Christensen's 1949 Chevrolet Sedan Delivery
Keith Christensen's 1950 Oldsmobile Business Coupe
Keith Christensen's 1955 Buick
Keith Christensen's 1955 Ford Truck
Keith Christensen's 1956 Ford Truck
Keith Christensen's 1959 Chevrolet Sedan Delivery

References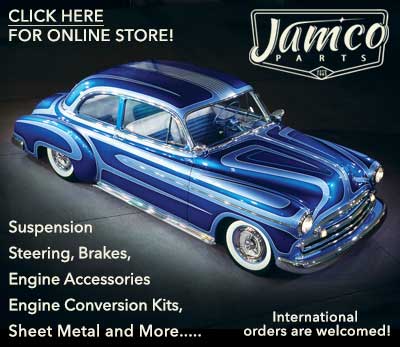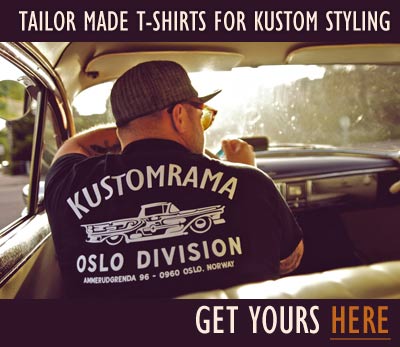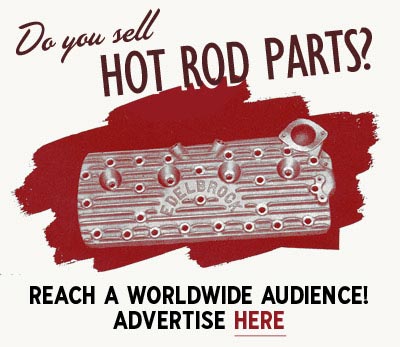 Did You Enjoy This Article?
Kustomrama is an online encyclopedia dedicated to traditional hot rod and custom cars. Our mission is to protect, preserve and share traditional hot rod custom car history from all over the world.
Help Us Make This Article Better
If you have additional information, photos, feedback or corrections about Keith Christensen, please get in touch with Kustomrama at: mail@kustomrama.com.