Von Dutch
From Kustomrama

Kenneth Howard a.k.a Von Dutch was born on September 7, 1929 in Compton, California. [1] Von Dutch is best known as the father of the modern pinstriping. Von Dutch was one of the original guys that were experimenting with pinstriping, he was also the first to develop a distinctive style. His striping was the first modern technique to be really popular. Back in the days if you wanted your car custom-striped you would ask for it to be "Dutched." According to Von Dutch his particular style of pinstriping sort of grew out of an accident of necessity. While Von Dutch was working for George Barris and Barris Kustoms guys would bring their newly customized cars to Barris Kustoms, and ask them to fix them up. An easy way to cover up sloppy bodywork was with paint. Von Dutch was working at George Birop's motorcycle shop in the vicinity and had a reputation for being a good striper and painter. At the time motorcycles were about the only vehicles that had pinstriping on them. One of the bikes rebuilt by the shop needed to be restriped, Dutch's father who was a sign painter, didn't pinstripe vehicles, but he used striping brushes in his work. Kenny had seen how to use them, and he tried to stripe the vehicle. The next day, when he showed it to the guys in the shop, they couldn't believe that the Dutch kid had done it. In order to prove his skills, Kenny striped another motorcycle while they were watching.[1]

Von Dutch was a multitalented artist. In addition to pinstriping, ha was also a gunsmith, kustom painter, knife maker, sign painter, inventor, customizer, and a fine artist. Von Dutch also did a lot of special effects for movies, and was a consultant for period movies because he was a gun expert. The man was a genius, and could make something out of anything. He was mostly interested in motorcycles, but did also customize some cars. One of the cars he restyled was based on a Cord and a Cadillac, so he named it the [Cordillac]]. Another automotive creation by Von Dutch was his truck the Kenford.[2]
According to Von Dutch, he started drawing flying eyeballs at the age of 18.[3] His sister Virginia Howard Reyes were there the first time he drew it, and can confirm that Von Dutch drew it in 1948.[2] Dean Jeffries on the other hand claims that he invented the trademarked Flying Eyeball in 1951. According to Dean, Kenny used to paint a third eyeball on his forehead. This gave Jeffries an idea, and in 1951 he designed a logo with an eyeball and wings that he later trademarked. The logo is known as "the Flying Eyeball". Kenny kept using it, and Jeffries never bothered to make a deal out of it. Jeffries still owns the right today, but somebody else is making big bucks out of the design together with the Von Dutch Brand.[4] According to Von Dutch's sister Virginia Howard Reyes, Ed Roth created another version of the "Flying Eyeball" before Dean Jeffries. Dean Jeffries drew one with a roller skate on it, Jeffries eyeball is his own creation and not the same as Von Dutch's, and no one is fighting over Jeffries eyeball because it never became as popular as Von Dutch[2]
George Barris hired Von Dutch on a part time basis to do paint work for him. The first job Von Dutch did for Barris Kustoms was to paint the business sign on the outside of the building. According to himself he fooled with the spelling and came up with a "K" instead of a "C" to spell custom, and thereby establishing the Barris' phrase "Kustom Car."[5] While still working out of his shop on 7674 Compton Avenue Barris's Custom Shop used the phrases "Kustom Automobiles" and "Kustom Auto Painting" in their advertising. So I guess this kills Von Dutch's story.

Von Dutch was known as an eccentric artist. In an interview with Hot Rod Magazine March 1977 he tells about a guy visiting his shop bugging him to stripe his car. He really got him mad, so he decided to give him a little surprise, as he put cobwebs and spiders all over his car. Another customer who was foolish enough to pressure Von Dutch into a quick job he didn't want to do got a striping job that wouldn't dry, as Von Dutch had mixed a lot of oil into the paint.[5] In Hot Rod Magazine April 1989 Pat Ganahl also tells stories about a firetruck Von Dutch was hired to do traditional pinstripng on for a station in Arizona. Once completed Von Dutch had flamed the truck instead. When racers brought him grille inserts from Model A's or 32s, half the time he would stripe them upside down. Pat had also heard a story about a customer that got a car striped. When the customer got back to the shop Von Dutch had pinstriped one side of the car differently than the other. When brought the car back to Von Dutch, Von Dutch would tell him: "Who can see both sides of your car at the same time? Why should they be the same? This way, you get two different designs on your car to enjoy for the price of one".[1] Also if somebody tried to dicker on price, Von Dutch would raise the figure instead of lowering it.[5]

Von Dutch got a little too moody and eccentric for Barris Kustoms, so he moved his operation uptown to "The Crazy Arab's" Competition Body Shop at 7201 West Beverly Boulevard in Los Angeles in 1955.[6] After Von Dutch moved, George Barris asked Dean Jeffries, aka "The Kid" if he would sublease a shop space in the Barris Kustoms Lynwood shop. Dean Jeffries used to hang around Von Dutch in the beginning of his career. In the book Dean Jeffries 50 Fabulous Years in Hot Rods, Racing and Film Dean admits that it was Von Dutch that learned him to pinstripe. As Dean spent a lot of time around Von Dutch, the duo became known as Von Dutch and "The Kid".[4] Before Dean "Jeff" Jeffries rented space at the Barris Kustoms shop he was working out of George Cerny's Cerny's Custom Shop.[7]

In 1955 Von Dutch made a personal appearance at the 1955 Motorama where he striped a 1927 Studebaker for 10 days, he achieved national fame in Car Craft February 1956.[8]

In the early 1970s Von Dutch ran a shop on Princess Drive in Tempe, Arizona. At the time, he had a partner called "Heavy". Heavy was a "non-producer" and the partnership didn't last long.[9]

According to his sister Virginia Howard Reyes most of the stories being told about Von Dutch are just stories. Some are somewhat true, but almost all of the stories on him are all different because he never gave a straight answer, and liked to play with you. When he told you something, you believed it, and he got a kick out of it. According to Virginia he never lied, he hated liars, and was very honest. He wasn't eccentric as a young boy, but since he was quite different from the norm, his family always knew he had something special in him.[2]

After a controller from the building inspector's office started bugging Von Dutch for having antiquated machinery in his shop, he decided to move into a 1954 public transportation bus, since there is nothing in the vehicle code code that says anything about how old the machinery can be.[5]

One of the things Von Dutch enjoyed doing most was building and working on machinery. Building an engine from scratch, see it grow, have it make heat, and power, would beat Frankenstein's monster to Von Dutch.[5]

Von Dutch spent a lot of time restoring antique motorcycles with Bud Edkins.[5]
Cars Painted or Pinstriped by Von Dutch
Paul Sylva's 1927 Ford Model T Roadster
Jack Chrisman's 1929 Ford Model A Tudor
Tom Pollard's 1929 Ford Roadster
Jim Helmuth's 1932 Ford Roadster
Bruce Gonzales' 1941 Willys Coupe Gasser
Buster Litton's 1949 Ford
Richard Clar's 1949 Oldsmobile Coupe
Bob Hirohata's 1951 Mercury
Philip Sauers' 1951 Mercury - Sashta
Paul Lehrbass' 1952 Pontiac Catalina
Louie Gaulrapp's 1954 Chevrolet
Spencer Murray's 1954 Chevrolet Hardtop
Harry Hanford's 1954 Lotus
Dick Jackson's 1954 Mercury Monterey
Keith Christensen's 1955 Buick
Merlin Windham's 1955 Buick - "Dragon Wagon"
Bud McNair's 1955 Chevrolet 210
Perry Gardner's 1955 Chevrolet
George Contaoi's 1955 Ford F-100
Ina Mae Overman's 1955 Ford Thunderbird
El Caballo II

Von Dutch's Personal Rides
The Kenford

References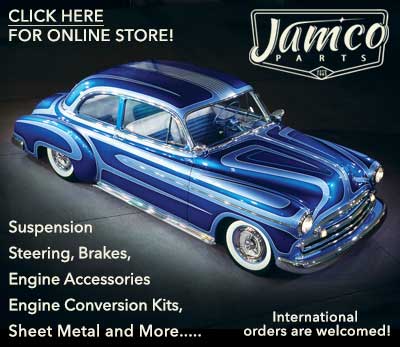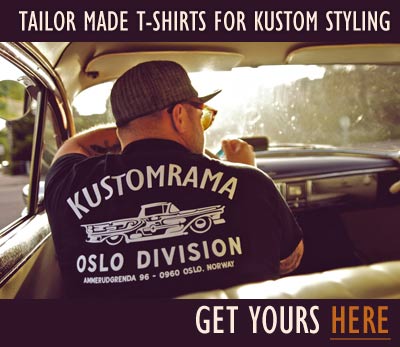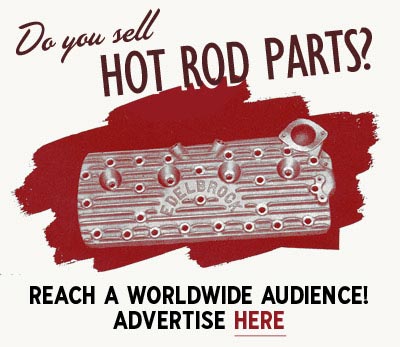 Did You Enjoy This Article?
Kustomrama is an online encyclopedia dedicated to traditional hot rod and custom cars. Our mission is to protect, preserve and share traditional hot rod custom car history from all over the world.
Help Us Make This Article Better
If you have additional information, photos, feedback or corrections about Von Dutch, please get in touch with Kustomrama at: mail@kustomrama.com.