The Alexander Brothers
From Kustomrama
The Alexander Brothers was a Detroit, Michigan customizing duo consisting of the brothers Mike and Larry Alexander.
The early days. Working out of their father's one-car garage
In 1948 Larry, who was the eldest brother, joined the Army. After being discharged he began to study body and fender work at a trade school under the GI Bill. Mike joined the Army in 1952, and after his discharge in 1954, Larry convinced him to also study bodywork and paint theory under the GI Bill at the Wolverine Trade School. After learning the trade of bodywork and paint, Larry and Mike began to work in their father's one-car garage after hours, shaving trim, filling holes, and doing regular repairs.
Second shop. Working out of Larry's two-car garage
Larry's burgeoning family prompted him to buy a house in the Brightmoor section of Detroit, and the brothers quickly reestablished the shop in its two-car garage. Lee Ewald lived on the next block over from Larry. "My street was Blackstone, and that second garage they worked in was on Westbrook," Lee told Sondre Kvipt of Kustomrama in 2014. Lee recalled Mike and Larry driving a 1931 Ford Model A Coupe around the neighborhood. "I loved seeing that car driving around, and it prompted me to buy a Model A and fix it up." Rumored to be the first creation to roll out of the later "Alexander Brothers Custom Shop" on Northwestern Highway near Evergreen Road in Southfield, Lee is 100% positive that the coupe was painted Glade Green Metallic in Larry's garage. Lee saw it many times in the neighborhood when it was completed and painted metallic green. "I remember it had big chrome tips on the exhaust and a great sound. It had a bored and stroked 4-banger in it probably with Offenhauser heads and intake manifold and 2 - 2 barrel carburetors." The A bone was painted Glade Green Metallic.[2]
Going all in
At one point Mike and Larry realized the work coming in was enough to sustain a full-time endeavor, so in 1957 they quit their day jobs and concentrated on growing their business.
Alexander Brothers Custom Shop - First real shop on Northwestern Highway
Later on the same year, Mike and Larry opened up the "Alexander Brothers Custom Shop" on Northwestern Highway near Evergreen Road in Southfield. Keith Ashley lived a couple of miles away and ventured by there often to see what was being built.[3]
The Grasshopper
In 1958, Mike and Larry bought and built a 1931 Ford Model A pickup in order to promote their new venture. The purpose of the car was to attract higher-end business. The car called Grasshopper, won a trophy for best paint at the 1958 Detroit Autorama. It got its name from the paint job, who was also done in Glade Green Metallic. They showed the car for the 1958 season before they sold it in 1959 to buy a brand new 1959 Chevrolet El Camino.
In the mid-1950 Dick Dean opened up a custom shop in Wyandotte, Michigan called South End Kustoms. When he was low on money, he would contract out to different shops. "Clarkaiser was one, the other was the Alexander Brothers," Dick's son Keith Dean told Sondre Kvipt of Kustomrama in 2021. This was during the time between 1956 and 1959.[4]
The Barris connection
The Alexander Brothers had a hard time getting press in the West Coast magazines. This changed one day when Bob Larivee Sr. called and said he had some people he'd like them to meet. The people were George Barris and his crew that was attending the Detroit Autorama with the XPAK 400. The aircar was broken, and George headed over to the brothers shop in order to fix it. George was impressed by their work and got the brothers into the West Coast magazines.
The Victorian, Sy Gregorich's 1955 Ford Crown Victoria gave the brothers good West Coast coverage. The Victorian was the first car ever to wear the Alexander Brothers' Trademark Badge. Mike and Larry redid the Victorian three times. About the time when Mike and Larry were working on the Victorian, Bill Hines moved back to Detroit from California. Bill had his hands' full painting candy, so he hired the Alexander Brothers to do bodywork. Mike and Larry didn't paint Candy, so Bill traded work for Candy instructions and paint on their jobs.
Clean and neat
The Alexander Brothers wanted their creations to be clean and neat, and In an interview with The Rodders Journal, Mike said that they would often turn customers away because they knew what a customer was asking for wouldn't look right. As an example he mentioned that someone could drop by asking them to chop their 1950 Mercury 8 inches.[5]
In 1959 Clarence Catallo brought the "Silver Sapphire" to the Alexander Bros. After a successful drag-race career, the body of the 1932 Ford Coupe had been sectioned and channeled. Mike and Larry formed the unique grille, before George Barris performed the three-inch chop, and paint. The "Silver Sapphire" is most famous for posing on the cover of the Beach Boys record "Little Deuce Coupe".
Ray Kulakowski had an area at the Alexander Brothers shop where he was doing interiors.
Second shop at Littlefield and a booming business
Booming business forced the brothers into their second shop at 13131 Littlefield at Grand River in Detroit. This was where they built the Adonis for Bill Whetstone in the early 1960s.
Freeway expansion and third shop at Schoolcraft Road
Things were going the right way for the brother's int heir new shop, and they got more and bigger jobs. One day the city stepped in and made things more complicated. They wanted to expand the freeway, so the brothers' lost their shop. After losing the shop, the brothers moved to a four lots shop at 21249 Schoolcraft Road, not far from their Littlefield shop. The state promised that they'd never encroach on the new land, so Mike and Larry decided to invest in a spray booth.
In 1962 Larry and Mike got to know Harry Bradley, a talented designer that proved very important to the brothers' heavy hitters style. Harry moved to Detroit in July of 1962 to work as a designer for General Motors. Ford was trying to get into the youth market, something that led them to work with AMT's Bud Anderson. The result of this collaboration was the Ford Custom Caravan. The Ford Custom Caravan included a few influential guys such as Bill Cushenbery, Gene Winfield, George Barris, Dean Jeffries, Ak Miller and so on. AMT paid a retainer and ran the Caravan. The builders would propose a drawing, and if Ford liked it, they'd give out a car for a dollar. Harry Bradley drew a car called the Alexa for the Alexander Brothers. The Alexa was a 1964 Ford Galaxie Fastback. Ford like it, and Mike and Larry got a car for a dollar. Since Harry Bradley was working for General Motors at the time Mike and Larry had to credit Harry as Designer X.
The Venturian
In 1964 Mike and Larry hired 14-year-old Ken Yanez. The same year they built the Venturian for Bobby Massaron, a 1956 Chevrolet custom that won the prestigious Don Ridler Memorial Award in 1965. James Giovanni grew up reading the rod and custom magazines in the 1960s down the street from the Alexander Brothers last shop. In 2019 James told Sondre Kvipt of Kustomrama that he remembers well the first time he saw Bobby's Venturian; "I was maybe 10 years old, sitting in the back of my parents car, stopped at a traffic light on West Outer Drive Boulevard at Hubble Avenue, in the summertime, with the windows of Dad's new Chrysler New Yorker all down (only wealthy people in that era had the means to afford air conditioning in their expensive luxury cars, the New Yorker was the mid-line model). Daydreaming about what in the world I was going to occupy myself with at my grandparents home nearby, during our impending, hours long visit (they spoke mostly Italian, and little English that I could understand), I was suddenly and stunningly brought back to consciousness by an utterly gleaming, gold metal flake wall of color. As I began to comprehend what I was looking at, I spotted the unmistakable Alexander Brothers gold and red emblem glistening on the front fender. As I took in all that brilliant gold metal flake, a full view came into focus of a stunning custom car capped by a brilliant white roof, by nonother than my neighbors, Mike and Larry Alexander! I was painfully envious that this young, handsome, white t-shirted, swept-back dark haired, super cool guy at the wheel could be so fortunate as to be piloting such an incredible automotive art form...at that moment I knew that someday I would certainly own such a creation by these masters of the custom car. Little did I know at the time that I was lusting over "The Venturian"."[6]
Mustang accessory items
The Alexander Brothers had a whole line of Mustang accessory items Leon Dixon told Sondre Kvipt of Kustomrama in 2020. The line included an Alexander Bros. Mustang GT Lamp that went behind the Pony in the grille on 1965 and 1966 Ford Mustang's. "Another one was a full-width taillight for early Mustangs." There were other items as well, and Dixon remembered Mike Alexander showing him all the stuff many years ago.[7]
Ford wasn't the only company to recognize the brothers' name equity and talent. Chrysler had the brothers doing sheet metal and paintwork on the Ramchargers racecars and other competition vehicles. The brothers figured out that if Chrysler had race money, they could probably afford to let the Alexander Brothers build them a car too. They asked Harry Bradley to design a vehicle based on Chrysler's recently launched Dodge A100, figuring they'd get the company to supply them with a truck if they liked what they saw. But if Chrysler wouldn't play, the Alexanders had a back-up plan: They would approach cross-town rival Ford, which had its own cab-over pickup, the Econoline. Chrylser liked Harry's design, and Mike and Larry received a stripped-down Dodge A100 pickup. The creation was called the Dodge Deora. The truck took three years to build. After winning all the major trophies at the 1967 Detroit Autorama, including the Don Ridler Memorial Award, Dodge put it out on a tour.
Victims of Another Freeway Expansion
After the Dodge Deora Chrysler gave Mike and Larry a 1966 Dodge Barracuda for their next project. The duo pocketed the door handles, worked a clear bubble into the hood and gave it an Indy-style fuel filler cap. After building the Barracuda, the city reneged on its promise and sought the brother' property for yet another freeway expansion. The series of moves and heavy workload over the years prompted Larry to find a straight job at Ford in 1968, one that gave him the chance to work in the body engineering department as a metal model maker. Mike kept the shop going with Ken Yanez as the city planned its highway. Before the brothers split apart they built a 1923 Ford Model T that they called Top Banana due to its yellow paint job. The Top Banana took their third Don Ridler Memorial Award in 1969.
Mike Moves On
Once the city razed the shop in 1969 Mike also found legit work. When Bunkie Knudsen left GM to run Ford he brought Larry Shinoda with him. Larry Shinoda hired Mike to run the Kar Kraft Design Center. The job was short-lived, and in 1970 Mike transferred to Heinz Pretcher's American Sunroof Corporation. The company started a new division called Custom Craft Division. Mike worked for Custom Craft Division for 25 years.
The Legacy
From 1957 to 1969, around 60 fully customized cars rolled out of the Alexander Bros. Custom Shop.
Employees
Bob Marianich
Bunkie Knudsen
Dave Stuckey
Ken Yanez
Larry Alexander
Mike Alexander

Cars Built, Restyled or Painted by the Alexander Brothers
The Alexander Brothers' 1931 Ford Model A Coupe
Alexander Brothers' 1931 Ford Model A Pickup - The Grasshopper
Clarence Catallo's 1932 Ford 3-Window Coupe - Silver Sapphire/Little Deuce Coupe
Don Vargo's 1934 Ford Cabriolet - The 69er
Bernie Toby's 1940 Ford Tudor Sedan - "Satan's Surrey"
The Mroz Brothers' 1950 Ford
Dick Bailey's 1950 Mercury - The Dream Boat
Leroy Brooks' 1953 Ford - The Purple Pelican
Walter Young's 1954 Ford
Bill Tumbliston's 1955 Ford Convertible
Peter Gentile's 1955 Ford Convertible
Sy Gregorich's 1955 Ford Crown Victoria - The Victorian
Peter Gentile's 1955 Ford Convertible
Rodney Rice's 1955 Chevrolet - The Astorian
Johnny Krzysik's 1955 Oldsmobile - The Vagabond
Arthur Epstein's 1956 Chevrolet - The Golden Chariot
Bobby Massaron's 1956 Chevrolet - The Venturian
Dave Jenkins' 1957 Chevrolet Bel-Air
Ken Bradley's 1958 Chevrolet Impala
Max Surma's 1958 Ford Thunderbird
Tom Biles' 1958 Ford Convertible - "The Perfidia"
Gary Glenn's 1958 Pontiac
The Alexander Brothers' 1959 Chevrolet El Camino
Mike Budnick's 1960 Pontiac - The Golden Indian
Bill Whetstone's 1960 Ford Starliner - The Adonis
Harry Bradley's 1964 Chevrolet El Camino - Blind Faith
1964 Ford Galaxie Alexa
Top Banana
The Dodge Deora
The Alexa
The Alexandria

Sources
Rik Hoving Custom Car Photo Archive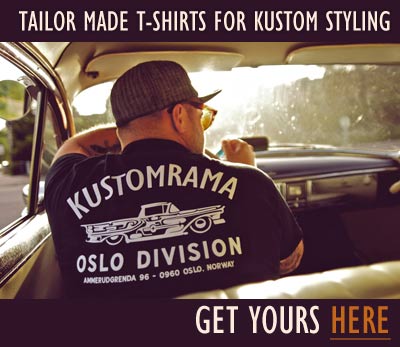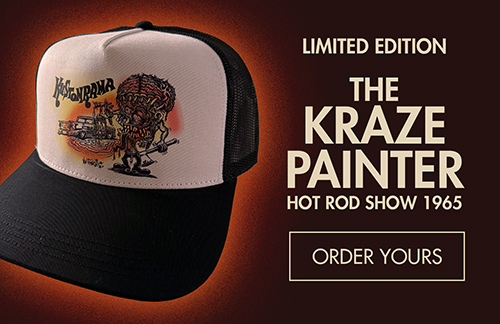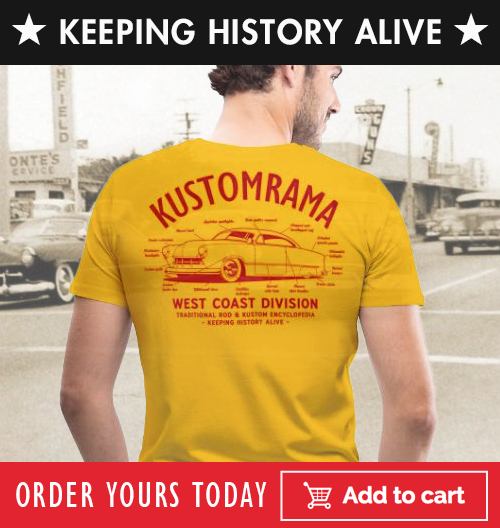 Did you enjoy this article?
Kustomrama is an encyclopedia dedicated to preserve, share and protect traditional hot rod and custom car history from all over the world.
Can you help us make this article better?
Please get in touch with us at mail@kustomrama.com if you have additional information or photos to share about The Alexander Brothers.



This article was made possible by:
SunTec Auto Glass - Auto Glass Services on Vintage and Classic Cars
Finding a replacement windshield, back or side glass can be a difficult task when restoring your vintage or custom classic car. It doesn't have to be though now with auto glass specialist companies like www.suntecautoglass.com. They can source OEM or OEM-equivalent glass for older makes/models; which will ensure a proper fit every time. Check them out for more details!

Do you want to see your company here? Click here for more info about how you can advertise your business on Kustomrama.