Jimmy Jones Bubble Skirts
From Kustomrama
The "Jimmy Jones Bubble Skirts" were hand formed bubble skirts made by Jimmy Jones of Inkster, Michigan. Jimmy had a 4 car garage behind his house where he would make his famous skirts, also known as "Inkster Skirts". When Jimmy made a set of fender skirts, he would make a cardboard template that matched the contour of the fender. He took the template to the junkyard to find an old car roof with a matching contour. The junkyards were filled with old sedans, and Jimmy would go and find the exact shape that he needed. He had a bed of coals in his backyard that he would slide the skirts over before he hand hammered them into perfect shape.

At age 17, in 1947, Al Turner ran into Jimmy at a junkyard in Ecorse Road between Inkster and Middelbelt Road. "Jimmy was cutting out the roof of a car and I asked him what he was doing. He told me that he made skirts. I bought mine for $50. All the early skirts made by Ford, Lincoln, Mercury, Packard and Buick in the 1940s had a tight radius on the edges, and they had a flat surface." Jimmy's non-pointed early skirts were known as "Tear Drops". Al had to wait between 6 to 8 weeks for his skirts.[1]

Jimmy made several sets of skirts for Inkster teenager Steve "Jake" Jakobowski. In 1954 he made a pair for Steve's 1953 Ford. "He was amazing, he would use a cardboard template hold it up to the car and from that, make an absolutely perfect fitting set of skirts. No adjustment needed. He was an absolute genius metal worker with a very mild demeanor and the nicest gent you could ever hope to meet. The Ford skirts back then only cost maybe $200 per set." At the time Willie Morton worked with Jimmy. Willie ran a body shop called Willie's Body Shop a couple of miles away from Jimmy's garage. Jake had Willie french in a pair of Oldsmobile bullet lense taillights on the Ford at his shop. He also removed all emblems, leaded the hood and trunk, removed the door handles and installed a 1954 Pontiac grille.[2]

Advertisement was purely by word of mouth. It was common knowledge among custom owners that if you wanted a pair of bubble skirts, Jimmy was the man to see. According to Al Turner, Jimmy probably only made somewhere under 100 skirts in his lifetime. "It used to take you anywhere from 1 to 6 months to get a set of skirts. Therefore, there were companies in the Detroit area that started making knock offs of Jimmy's skirts. The knock offs had the exact same brackets, contours etc. The only way you could tell a set of Jimmy Jones skirts from the knock offs is that his skirts were cut from a roof of a car, so they were approximately 2 or 3 gages of metal thickness, and much heavier than the knock offs. The company that made the knockoffs was Detroit Grill Products on Vernor Highway. It was a matter of supply and demand. Jimmy just could not make them as fast as the customers wanted"[1]
How Much Bubble and How Much Rainbow?
According to Dave Jenkins, who in 1957 bought a pair of skirts from Jimmy for his 1957 Chevrolet Bel-Air, Jimmy built a rod outline for three sides that he rolled the metal over. This was necessary in order to create the pointed front. The bottom was folded in, and as far as Dave knows, only Jimmy did this. A center brace with a swing arm was made to hold the skirts against the body. Jimmy's skirts had a bracket on the bottom edge front and rear. These varied with the different applications. "The bottom, which Jimmy called the "Rainbow," was charged for by the inch. The lower it went down the more it cost. I seem to remember it went like 4-5-6- inches. He called the bow "Bubble" in the skirts by the amount that the buyer wanted the skirts to bow out from the body. That was also a cost consideration. When you went to Jimmy he would ask "How much rainbow and how much bubble?" Then he went from there. About 2 weeks later you would go back and the skirts would be in gray primer ready for paint. No body work necessary. Jimmy would then fit them to the car and you would be on your way. A very proud moment indeed. When I bought mine on January 22,1957 they cost $120.00 and at the time my job paid $46.50 per week so as you can see you really had to want them BAD!!"[3] Famed car designer Harry Bentley Bradley has said that Dave Jenkins' 1957 Chevrolet has "the best bubble skirts in America."
Ethyl Gursky, who grew up in Inkster, went back to his hometown many years later to locate Jimmy. He started his hunt at the junkyard that he used to go to. At the junkyard, they told Ethyl that Jimmy had passed, but they also told him to look up a man that helped Jimmy build the skirts. He went to another yard on Inkster rd. just south of Michigan Avenue, where they could tell him that his name was Willie Morton. Willie told Ethyl that he worked for Jimmy for a long time. Willie still had the wood dies, stands and more, and told Ethyl how they used to make the skirts. Willie still had some old roofs in the building, and he offered to build Ethyl a pair. He wanted 750.00 USD to build a pair for Ethyl's 1956 Ford.[4]
Cars Featuring Jimmy Jones Tear Drop Skirts
Al Turner's 1939 Ford Standard Coupe
Bob Bennett's 1940 Ford 2 Door Sedan
Ron Touchstone's 1940 Ford Coupe
Ron Touchstone's 1946 Mercury Coupe
Larry Kroptf's 1947 Ford Four Door
Gene McCrikard's 1948 Mercury Convertible

Cars Featuring Jimmy Jones Bubble Skirts
Ron Kirk's 1949 Ford Coupe
Tom Zimnicki's 1949 Ford Club Coupe
Dave Jenkins' 1950 Chevrolet
Don Kilgore's 1950 Ford Two Door Sedan
Jerry Pluta's 1950 Ford Club Coupe
Pat Willey's 1950 Ford
Dick Bailey's 1950 Mercury - The Dream Boat
Ralph Hill's 1950 Ford Convertible
Gene McCrikard's 1951 Ford 2 Door Sedan
Walt Murzin's 1951 Ford Club Coupe
Jay Wilson's 1951 Mercury
Mickey Chiado's 1951 Mercury
Frank Kulas' 1952 Ford Club Coupe
Clare Kastle's 1953 Ford 2 Door Sedan
Dick Adams' 1953 Ford Club Coupe
Frank Kulas' 1953 Ford Victoria
Steve Jakobowski's 1953 Ford
Dick Anderson's 1954 Chevrolet 2 Door
Spencer Cottingham's 1954 Ford Convertible
Walt Knox's 1954 Ford Convertible
Ralph WIlliams' 1955 Chevrolet
Dave Jenkins' 1957 Chevrolet Bel-Air
Don Adams' 1957 Chevrolet Convertible
Walt Knox's 1957 Oldsmobile Coupe
Billy Bobins' 1959 Chevrolet Impala Convertible
Dick Rothfuss' 1959 Chevrolet Impala - "Poopsie"
Steve Jakobowski's 1959 Chevrolet El Camino
Calvin Wilkes' 1960 Ford - The Candy Cane

References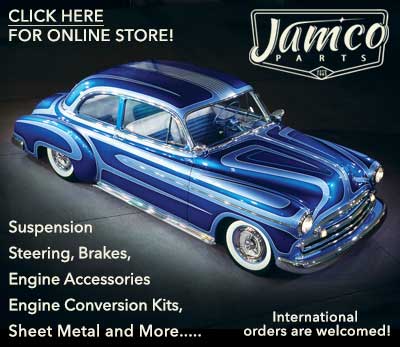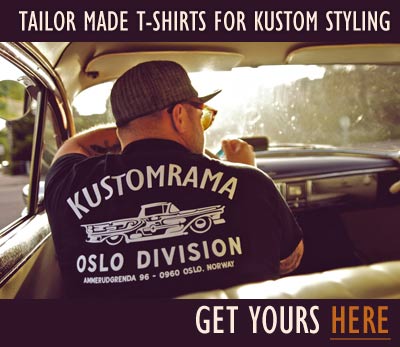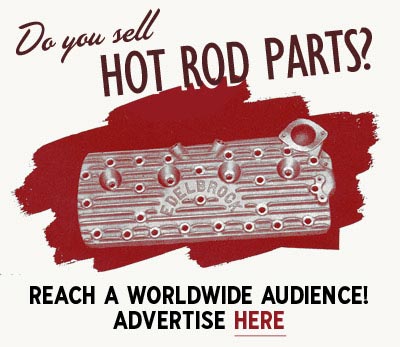 Did You Enjoy This Article?
Kustomrama is an online encyclopedia dedicated to traditional hot rod and custom cars. Our mission is to protect, preserve and share traditional hot rod custom car history from all over the world.
Help Us Make This Article Better
If you have additional information, photos, feedback or corrections about Jimmy Jones Bubble Skirts, please get in touch with Kustomrama at: mail@kustomrama.com.