The Birth of Hot Rodding
From Kustomrama
The Birth of Hot Rodding was selected by the American Auto Racing Writers & Broadcasters Assoc. as its choice for the best book on auto racing for 2003. Subtitled: The Story of the Dry Lakes Era."The nearest thing to it, as I thought then, would be like landing on the moon!"--Wally Parks, describing the dry lakesIn the garages, shops, and fertile minds of 1920s car buffs in search of more power and speed, the hot rodding movement was born. A hot bed of this early quest for speed sprang up when the first Southern California hot rod builder hauled his creation over the ridge of mountains and opened up the throttle on the Mojave Desert's dry lakes.The dry lake beds of the desert provided the common denominator, the measuring stick against which all hot rod builders would judge their modified machines. These dry lakes were in secluded spots where this creative breed of car folk could come together to share ideas, learn from the masters, and compete to be the fastest for the weekend.These wide open havens for speed and freedom nestled within the mountains north of Los Angeles provided nature's perfect racing surface: perfectly flat, free of obstacles, with miles to go in any direction. Places like Muroc, El Mirage, and Harper were transformed from ancient prehistoric no-man's-land to the weekend testing grounds of speed. Author Robert Genat brings together stories of the golden age of hot rodding from the men and women who pioneered the sport in The Birth of Hot Rodding. Profiles of the most influential racers, cars, and events accompany original photography to create a definitive history of hot rod racing on the dry lakes. With a foreword by Wally Parks, NHRA founder and chairman of the NHRA Motorsports Museum, The Birth of Hot Rodding encapsulates a unique piece of racing history.
Buy This Book
Buy the Birth of Hot Rodding from Amazon.com
Featured Cars
Keith Landrigan's 1932 Ford
Jack McAfee's C Streamliner
Veda Orr's 1932 Ford Roadster
Dave Glotch's 1934 Ford Roadster
Neil Davis' 1927 Ford Model T Roadster
Frank English's 1932 Ford Roadster
Howard Johansen's Belly Tank
Bob Reese's 1932 Ford Roadster
Ak Miller's 1923 Dodge Roadster
Robert Clews' 1932 Ford Roadster
Charles Dimmitt's 1939 Lincoln Zephyr
Phil Remington's Modified
Elmer Chiodo's 1934 Ford Roadster
Bob Tattersfield's Belly Tank
Ralph Weston's 1929 Ford Model A Roadster
Don Cox's 1934 Ford Coupe
Don Cox's 1940 Mercury
Bob Drew's 1932 Ford Roadster
Fred Lobello's 1932 Ford Roadster
The Pierson Brothers 1934 Ford Coupe
The Pierson Brothers 1936 Ford Coupe
Ray Brown's 1932 Ford Roadster
Tom Beatty's 1927 Ford Model T Roadster
Jim Collin's 1932 Ford Roadster
Don Blair's 1927 Ford Model T Roadster
Jack Mickelson's 1932 Ford Roadster
Thatcher Darwin's Streamliner
Johnny Hartman's 1927 Ford Model T
Dick Price's 1932 Ford Roadster
The Lodes Brothers Belly Tank
Bob McGee's 1932 Ford Roadster
Paul Schiefer's 1925 Ford Model T Roadster
Kenny Yenawine's 1932 Ford Roadster
Don Cox's 1932 Ford Roadster
Alex Xydias' 1934 Ford Cabriolet
Jack Morgan's 1934 Ford Roadster
Ed Stewart's 1932 Ford Roadster
Wally O'Brien's 1932 Ford Roadster
John and Bill Eppard's 1929 Ford Model A Roadster
Arvel Youngblood's 1932 Ford Roadster
Robert Joehnck's 1929 Ford Model A Roadster
Harvey Haller's 1929 Ford Model A Roadster
Bob Giovanine and Chuck Spurgin's 1925 Chevrolet Roadster
Harold Daigh's 1927 Ford Model T Roadster
Tommy Tompkins' 1932 Ford Roadster
Clem Tebow's 1926 Ford Model T Roadster
Bob Weinberg's Roadster
Stu Hilborn's Streamliner
Marvin Lee's Streamliner
The So-Cal Streamliner
Emil Dietrich's Streamliner
Burke & Fransisco's Belly Tank
The So-Cal Belly Tank
The Lady Bug - Fred Lobello's Belly Tank
Bill Burke's Belly Tank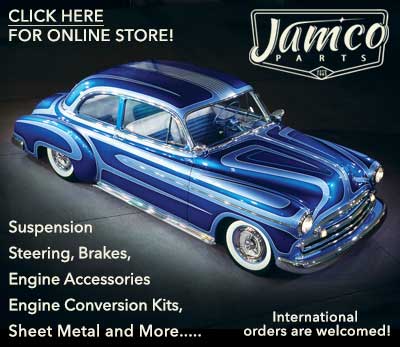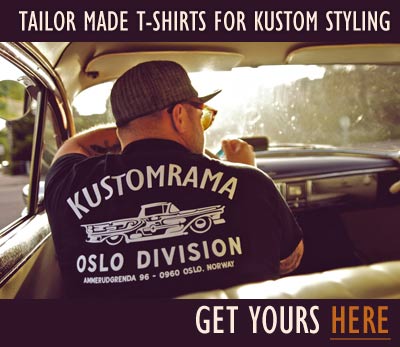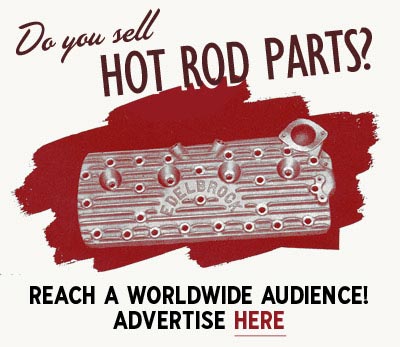 Did You Enjoy This Article?
Kustomrama is an online encyclopedia dedicated to traditional hot rod and custom cars. Our mission is to protect, preserve and share traditional hot rod custom car history from all over the world.
Help Us Make This Article Better
If you have additional information, photos, feedback or corrections about The Birth of Hot Rodding, please get in touch with Kustomrama at: mail@kustomrama.com.