Leo Lyons' Ultra Modern Merc
From Kustomrama
1950 Mercury owned and restyled by Leo Lyons of San Bernardino, California. The story about Leo Lyons' Ultra Modern Merc has a very special place in our hearts here at the Kustomrama headquarters. In addition to being recognized as the last significant Custom Mercury built in the 1950s, it is also the first car to go from the Kustomrama For Sale section to the prestigious Pebble Beach Concours d'Elegance. And that in just two years! An incredible journey we are proud to be part of.

In 2013 Leo told later owner Geoff Hacker that he started thinking about building the car around 1950; "He had just turned 20. He was excited about what he saw in the custom scene in southern California and was smack dab in the middle of it. But he wanted to do something different; something no one he knew had done before, build a custom car mostly from scratch. But he wanted to base his design on the iconic 1950 Mercury. He kicked around the design for 2-3 years and around 1954 confirmed the design of the car that he wanted to build. The front end would be heavily influenced by the styling of a Barris car that just had been finished, the Golden Sahara. The back would retain some of its 1950 Merc heritage."[1]
The Design of Leo's Merc
Leo's initial plans called for building 10 identical custom cars and he was going to build each with brand new parts, and then modify these parts. The chassis and body panels were purchased new from Ford. With the first set of panels on hand, Leo set to work learning how to weld and shape metal under the guidance of Sam Barris. A few parts needed to be custom built as well, so Leo called on the legendary metal-shaping firm California Metal Shaping to custom design and build the doors, hood and top. With all his ducks in a row, Leo began looking to acquire parts for his car; "Leo didn't take the path most traveled. He wanted to work from brand new parts and build his car from the bottom up. And he wanted to build 10 identical cars no less. His first car would be the prototype, the working concept so to speak. He would apply what he learned by building the first and finish the remaining 9 cars, and the others were going to be built to sell. So he started talking with Ford on how to obtain parts in this quantity. Ford said they didn't get too many customers like Leo who wanted 10 sets of all panels so they requested sketches of what the car was going to look like. They were impressed with his planned design of the car and the people involved. Much to Leo's surprise they were eager to help. Ford Motor Company agreed to supply the parts, coordinated through their Long Beach facility, by providing an initial set of what Leo needed. They would hold shipment on the remaining nine sets until work began on those cars. Leo said that Ford was great to work with "They bent over backwards to help me," he shared. They asked for a local Ford agency to deal with and Leo shared he worked mostly with Garner Ford in San Bernardino, California. Leo reported that they shipped parts right from the assembly line, everything from frame to fenders. Originally George Barris pushed Leo to get an old Merc convertible to work from. But Leo didn't want to tear it all apart. "They were too pretty," he said. But Leo did confirm that that the brand new left and right rear quarter panels were from a Mercury convertible."[1]
Building the Car
Parts were acquired starting in late 1954. The construction started in 1955, and continued through its debut in the summer of 1959. And those intervening years weren't easy! Leo reports, "Mother came home mad one night, her friends said that her son (Leo) would never finish that car. She came right at me and said "if you don't finish that car I'll beat the heck out of you!" His mother would ask "when are you going to finish this thing so we can get it out of the garage!"[1]

Leo had the car at the Barris shop, on and off, for nearly a year. Sam Barris guided Leo on how to do leadwork, and they both helped teach him techniques that would enable him to finish the car. As Leo recalled, "George gave advice too, but Sam spent the most time showing me how and what to do. I really wanted the Barris boys to finish the car but after a year of keeping the car there at their shop, on and off, they taught me enough where I could finish it on my own. And I learned how to French the headlights. that was pretty cool to do back then too." When Geoffrey Hacker interviewed Leo about the Merc, he couldn't remember who did the upholstery for him; "He did remember that his lifelong friend Grant Barber painted the car for him at his shop in San Bernardino in early 1959. Grant would end up buying the car in the mid 1970s, becoming even more a part of the car's history."[1]

The front end design of the car was heavily inspired by the Barris built Golden Sahara. The grille shelll was molded, and a set of 1955 Buick Roadmaster and Super headlight bezels were recessed into the fenders. Chrome bullets from a 1955 Buick were installed beneath the headlights. A mesh screen was used as grille, and a center star from a 1955 Ford 6-cylinder truck was installed for decorative purposes. Not much chrome were installed, Leo used a set of 1955 Chevrolet Bel-Air four door side trim and a 1958 Nash antenna on the deck lid. Old feature stories on the car claims that the antenna came from a 1957 Ford, but that is not correct. The rear fenders had open tips with 1957 Pontiac exhaust pieces used for bumperettes. The taillights were custom fit red Plexiglas around the exhaust ports, and the back up lights came from a 1953 Pontiac. The fenders skirts were flared. As the design and build of the car progressed, Leo sought out the help of California Metal Shaping. This is the same company that built Scarab bodies for Lance Reventlow, Chaparral bodies for Jim Hall, the Mantaray body for Dean Jeffries, Bill Stroppe's last road course race car body called the Bearcage, and the prototype aluminum bodies for the Bill Thomas Cheetah. A substantial resume! California Metal Shaping ultimately designed, built, and fitted the top, the doors, and the hood for the Leo's Merc. The top was custom made to fit a 1955 Mercury windshield. The rear was custom made from Plexiglas. The body was painted blue, and a luxurious matching interior was stitched up. The dashboard was custom made for both glamour and safety. Blue and white Naugahyde was used for upholstery stitch-work of the seats, headliner, side panels and doors. Instrumentation was borrowed from a 1955 Studebaker, and the steering wheel was a 1950 Ford Custom Deluxe wheel and horn ring. The hubcaps were modified 1955 Studebaker hubcaps. It rolled on Firestone 670x15 tires with 2 inch whitewalls. According to the featured story on Leo's Merc from Trend Book 197 Custom Cars 1961 Annual, total build cost was $5000.[2] Trend Book 197 Custom Cars 1961 Annual claimed that the car was "almost entirely crafted of aluminum," this was not the case, and Leo laughed when Geoff read to him the old article.[1]
Engine
Even though Leo was building his ultimate design for a modern Mercury, he wanted to use a popular engine choice for custom cars back then, a Cadillac drivetrain. As Leo shared with Geoff, "It was originally going to be powered by a Cadillac. We visited a shop on Alameda Street in Los Angeles which sold engines and transmissions, there must have been 300+ on the floor and throughout the warehouse. Even so, they were all out of Cadillac engines, but they had a special deal. It was nearly a brand new 1953 Buick engine and transmission and it would cost $600." Leo later shared, "Funny thing….I was watching the TV some time later and there was the warehouse in the news, cops and all. The owners were caught stealing cars and selling parts across the country, including engines and transmissions. I guess I now know where my drivetrain came from," he smiled.[1]
The Ultra Modern Merc
After 10 years of hard work, Leo Lyons, now 30 years old, finished his dream car in the summer of 1959. He called George Barris soon after completing the build, and the next stage of the car began. George did all professional photography work and stepped him through the show process in Southern California, including making Leo's car one of the feature cars of his 1959 Bakersfield Motor & Boat Show. He also included the Leo Lyons Ultra Modern Merc in several of the Trend Books on Custom Cars that he was writing and was involved in. It made it's first public debut September 5, 1959, at the Disneyland Car Club Day and Autocade. It was presented at the show as the "Ultra Modern Merc." In 1960 it landed the cover of Custom Cars February 1960, and a feature article in Rodding and Re-Styling July 1960. The photos used in these stories were the ones George Barris had taken. Geoffrey asked Leo about showing the car; "He remembered taking the car to shows as far north as Bakersfield and as far south as San Diego, all within California. He remembered that it received a "First Place" in the "Full Custom Class" at Bakersfield which showcased custom cars, and that ultimately he won six or eight trophies across several shows, some 3 to 4 feet tall. Leo remembered, "My mother used to clean the trophies, and finally put a plastic cover over them. Finally, after many years of looking at them and cleaning them she said "do something with those damn trophies! It so happens that a good friend of mine was a little league coach and he was over at my house one day and asked about all the trophies under the plastic. I showed him the trophies and he was impressed and he shared that he couldn't afford to buy trophies that size for his kids. I gave him the trophies and asked him to take them to a San Bernardino trophy shop and have them changed from a car theme to a baseball theme. He didn't want to take them, but then my mother said, "please take them. Please!." Some kid probably still has the trophy, heck he's probably an old man now with his own children."" Looking back, Leo's Mercury is the most radically customized 1949 - 1951 Mercury built in the 1950s. According to later owner Geoffrey Hacker, it has also been recognized as the last significant custom Mercury built in the 1950s. In Trend Book 197 Custom Cars 1961 Annual it was again recognized as one of the most significant custom Merc's built to date with a two page feature article inside. Leo's initial plans called for building 10 identical custom Merc, only this one, his prototype, was built.[1]
Selling the Car
Leo last saw his car at Jack Coyle Chevrolet in San Bernardino, California, around 1965. He had traded it in that year for a brand new Chevrolet, as a gift for his father. Leo told Geoff that he remembered ordering it with a 6 way seat. "Jack Coyle wanted to buy my Custom Merc as a present for his son who was interested in the car. He showed his 18 year old son my car and his eyes grew big. "Dad…can I have this car?" his son asked. How could a father refuse?" Jack told Leo to order anything new he wanted, which in this case was a 4 door hardtop, that was the best kind of car for his dad. Geoffrey asked Leo what happened to his Custom Merc after Jack's son received it, and he said that after graduating from high school, the son lost interest and the father put the car on the lot for sale. That was the last Leo saw of his car until the 1970s.[1]
Ken Pyle was born in 1945. He has been a gearhead since age 12, and in 2020 he told Sondre Kvipt of Kustomrama that he had the issue of Custom Cars with Leo's Merc taken away from him twice in 10th-grade study hall. Ken moved from Seattle to San Bernardino in 1963. "It was like moving to Eden. In the fall of 1964, my sister helped me to get a job where she worked in L.A., an auto parts wholesaler called Electric Equipment Co. At 16th and Hope sts, our parking lot was under a Santa Monica Fwy onramp. One day I went out for lunch and parked next to my '53 Stude was Leo's Merc! It was owned by a guy named Mickey Ellis who had been hired as a warehouseman. Got to eat lunch in it a couple of times with Mickey. He eventually asked me to introduce him to my sister Marti, the switchboard operator there. Sometime that December they took a weekend drive up the coast and during that time my nephew Mike was conceived. He was given up for adoption and I only met him last year after he searched out his birth parents." Ken doesn't know if mickey ever knew about his paternity. He believes Mickey must have bought the car from Fred Coyle, who was briefly a member of Ken's car club the Pacemakers of Berdoo.[3]
Evidently the car didn't go far, and around 1968 it re-appeared for sale at Dale's Custom Cars on Base Line Road in San Bernardino, California. It didn't sell quickly, no doubt because custom cars from the 1950s had yet to reach their renaissance. Ultimately the car was removed from the "sales pool" and instead became a landmark in San Bernardino being used out front as a sign advertising Dale's Custom Car business for all to see. Here it remained until around 1976, when the person who painted Leo's car in 1959, Grant Barber, persuaded Dale to sell him the car, ultimately putting the Leo Lyons Ultra Modern Merc back on the street. Grant was body and paint man in San Bernardino, and his name was on the title when Geoffrey Hacker and Rick D'Louhy bought the car in 2013. This helped validate Leo's memory as well. Evidently the Barber family sold the car on ebay after Grant's passing in the early 2000s, and it was via eBay that Craig Hahn acquired the car in 2004.[1]
Geoffrey Hacker - Finding the Perfect Daily Driver
In March of 2013 the Ultra Modern Merc was advertised for sale on the HAMB. The car was located in the Nor Cal Bay Area, and the asking price was 7 500 USD. At the time, the suspension and brakes were gone through, and the car moved under it's own power, but it needed a little more work in order to be driven though. Sondre Kvipt of Kustomrama, found the ad, and decided to add the old custom to the Kustomrama For Sale section. Geoffrey Hacker saw the ad and bought the car in June of 2013.[4] "All I wanted was something cool to drive," Geoffrey told Kustomrama in 2013. "For nearly a decade, Rick D'Louhy and I have been scouring the earth writing about the history and saving handcrafted sports cars built across America." Most of these stories appear on their website www.ForgottenFiberglass.com. "And while these hand-built sports cars are pretty cool, we've also written about, found, and acquired American boulevard cruisers, sport customs, custom cars, belly tanks, streamliners, vintage transporters, concept cars and teardrop streamliners from the 1930s. If it's a handcrafted vehicle, then Rick and I know it's a story worth telling and a vehicle worth saving. We've been doing this for many years now, and although I love my daily driver, a Chevrolet Suburban, it was about time I found something that would be fun to drive too. It's always a tough choice, save money to find and purchase historical cars or find something I want to have fun in and drive. I always err on the side of saving something unique. And then it hit me, why not find something where I can do both. This was where my thinking was early in 2013, my eyes were now laser focused on what I wanted to do. So off I went, perusing eBay, Craigslist, Bring a Trailer, and other sites and then I saw it, on Kustomrama. A neat looking car with a pedigree, a custom car that filled the bill. It was a cover car, it was a custom car, it was a coupe, and it was affordable. The owner was Craig Hahn who is a veteran custom car builder who, in fact, appeared with a spectacular custom car he built in the first issue of The Rodder's Journal, very impressive. Craig gave me the scoop on the Leo Lyons Merc and we reviewed what had been completed and what remained to be done. It was a fairly solid car, but would require quite a bit of effort depending on what we wanted to do with it. And at that time, I thought a "daily driver" resto would be fine by me. I didn't know what was coming down the pike. Craig had bought Leo's Merc years earlier off of eBay from the "Barber" family, and this would be a meaningful piece of information in researching the history."[1]

According to Geoff, "Craig and his friends had cleaned up the car, primed it, installed an updated Ford engine, did the brakes and the Leo Lyons Custom Merc was on its way back to life. However, at this stage Craig decided to focus on another project and work on the Merc came to a halt. He listed it on the HAMB and that's where Sondre Kvipt from Kustomrama saw it for sale. After agreeing to purchase the car and talking with Craig for some time, I asked him about Leo Lyons. "Did you ever track Leo down?" I asked….Craig replied "that's something guys like you like to do. Go get 'em Geoff!""[1]
Geoff is often asked how he find people and cars, and he usually share his thoughts in the following way: "People and cars are like fish on a reef, most often, they don't stray far from home." Geoff's search for the designer and builder of the car began, and was over in about 10 minutes; "Leo had lived in San Bernardino, California nearly all his life, and he was still in the white pages. I called and left a message and to my pleasant surprise he called back the next day. Then, our fun began."[1]

Leo was the youngest of 5 brothers. He was born on April 26th, 1930 in Akron, Ohio. His family moved to Phoenix, Arizona because Leo, at age 4, developed asthma. The climate was much better for young Leo in the southwest. In about another year, they moved to Alhambra, California, and then a few years later to San Bernardino where he was still living when Geoff reached him. After graduating high school in 1948, he took odd jobs for several years and customized a small number of cars. In the mid 1950s he enrolled in Valley College and worked toward becoming an apprentice electrician. He later achieved his ultimate goal becoming a master electrician which is the trade he kept all of his life. This funded businesses and car projects for his entire life. Leo did build several hot rods, V8's, in his early years. But this was all leading up to his final car, a full-blown custom, the Leo Lyons Ultra Modern Merc.[1]
Reuniting Leo Lyons With His Ultra Modern Mercury
"After finding Leo, Rick D'Louhy and I strongly believed that we should do all that we could to reunite him with his Custom Mercury, and in June, 2013 this became reality. Not only did we ship the car to a place near Leo's home, we flew out to meet Leo and share the moment with him when he saw his Ultra Modern Merc. When he walked up to the Merc, he shared, "I can't believe it survived, I thought it would be a pile of metal someplace by now…it's not beat up or anything, it looks great for being 50 years old" Leo started to share memories of how he built the car and the people he met during his journey. "You can't believe all of the people I met through that car," he said and then continued for most of the day sharing stories. Robert Angelo, videographer for Jay Leno's Garage, joined us that day and put Leo's memories to tape, something we hope to share in the near future. It was during this time that I learned that I was the first to ask Leo about his car since he sold it in the 1960s. I'm always amazed at the stories out there that remain untold. Thomas Voehringer, Senior Archivist for the Petersen, Motor Trend, Hot Rod, Custom Cars archive joined us that day too, and all of us hopped in a car and took Leo to visit his old friend George Barris. Once again, the stories poured out from years long ago, and we stretched our ears as long as possible to learn all that we could about a time long ago."[1]
Shipping the Car to Florida – The Race Is On!
Meeting Leo in person was a trip for Geoffrey and Rick; "It couldn't get better than first person stories. Soon after arriving home we made plans to ship Leo's car to Tampa, Florida along with other cars we had found that Rick and I are saving for future restorations and stories back at our home base. That year we were at a show with a car and trailer in Milwaukee, Wisconsin and it just happened to be that Leo's car and others were being loaded and shipped that same weekend. The race was on. We departed immediately after the show and headed back to Tampa, Florida making as few stops as possible. Meanwhile, the trailer with our cars had already left California and was heading east on I-10. Suburban and car trailer racing south….semi and car trailer racing east. We managed to stay 3 hours ahead of their arrival time for 2+ days on their road, and by the time they arrived at Sunrise on Friday, August 30th, 2013 we had beat them by the same margin, 3 hours."[1]

Unloading non-running cars is always a challenge, and in this case, the Leo Lyons Merc and our others on the trailer were all non-running, and without brakes; "In one case the Singer race car we brought home broke loose and headed down the ramp at increasing speed. The loader jumped on the back of the car and laid across the cockpit grabbing and steering the car. While it seems funny now….it was pretty scary at the time."[1]
Geoffrey and Rick were excited to have the Leo Lyons Merc in Florida, and they showed it in October, 2013 at a local Cars and Coffee sponsored by the DuPont Registry. As part of this announcement. Geoffrey shared his latest acquisition with Ken Gross, car historian, automotive raconteur, and Pebble Beach judge; "Having thought that we now could rest a bit having just got the car home, that's when Ken dropped the next bombshell on us. "Geoff," Ken said, "we're having a class of Custom Mercury cars at Pebble in August, 2015. If you can get the car ready, you have a pretty good chance of being invited to participate." Be careful what you wish for….we felt like we were the proverbial dog that had finally caught the car by the tire. As such, we jumped straight into action."[1]

Metal shaping and mechanical repair fell mostly to John Pascucci at J.R's Speed Shop. A friend of Geoffrey, and a mechanical genius, Ralph Smith, helped prep the engine for the car, and others jumped in too. Bodywork and paint fell to Albert Arsenault, and upholstery to Tom Cook and Sal Puma. More friends jumped in too, including Kyle Feller and Nate Bowne. Geoffrey and his team finished the car just 17 or so hours before the car was to be shipped to Pebble Beach in early August, 2015.[1]
The Pebble Beach Experience
Pebble Beach is an experience onto itself, and Geoffrey and Rick were honored to be there celebrating Leo Lyons and his Ultra Modern Mercury on August 16, 2015; "We were excited to be there but something was missing. We had lost our friend Leo Lyons in November, 2014 at the age of 84. Getting to know Leo, and his contribution to American Custom Car history was the best part of the entire experience, and Rick and I felt honored that we would be the ones who would tip our hats to his achievement and share the best that he had to offer the custom car world on the hallowed grounds of the Pebble Beach Concours d'Elegance. It's not a one-day experience at Pebble, like most concours, there are several days of events usually starting on the proceeding Thursday. In fact, the first seminar of the Pebble celebration was "Mercury Customs and the Men Who Created Them." Legendary figures of custom car history were there including George Barris, Gene Winfield, and Bob Larivee, moderated by automotive historian Ken Gross. What a way to start the week at Pebble! The concours on Sunday was the gem of the week, and it didn't disappoint. Seven historically important Custom Mercury cars were included featuring much of the work done by George and Sam Barris. And of course the James Dean Merc was there too, along with my favorite, and now Pebble Beach award winning, Hirohata Custom Mercury. As you can imagine, Rick and I could hardly catch our breath the entire day."[1]

After Pebble Beach, the Ultra Modern Merc was shipped back to Florida, where it was put on display at the Sarasota Classis Car Museum in Sarasota, Florida. After the restoration was completed, Geoff decided that the Merc would not become his daily driver.[1]
Magazine Features and Appearances
Custom Cars February 1960
Rodding and Re-styling March 1960
Custom Cars July 1960
Rodding and Re-styling July 1960
Trend Book 197 Custom Cars 1961 Annual

References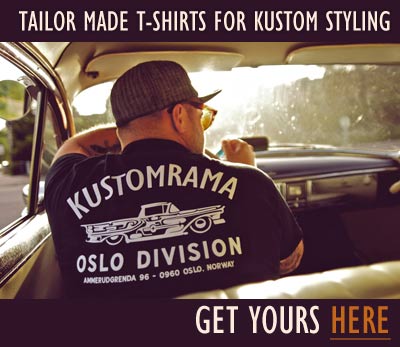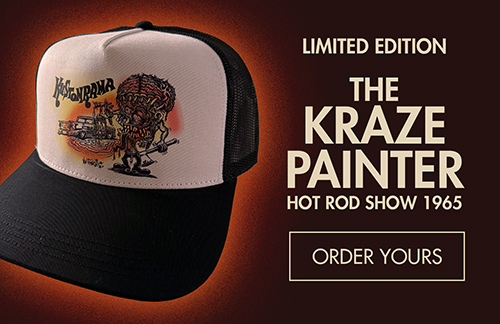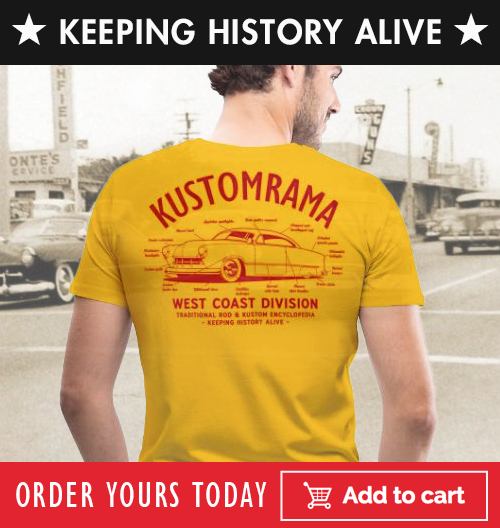 Did you enjoy this article?
Kustomrama is an encyclopedia dedicated to preserve, share and protect traditional hot rod and custom car history from all over the world.
Can you help us make this article better?
Please get in touch with us at mail@kustomrama.com if you have additional information or photos to share about Leo Lyons' Ultra Modern Merc.



This article was made possible by:
SunTec Auto Glass - Auto Glass Services on Vintage and Classic Cars
Finding a replacement windshield, back or side glass can be a difficult task when restoring your vintage or custom classic car. It doesn't have to be though now with auto glass specialist companies like www.suntecautoglass.com. They can source OEM or OEM-equivalent glass for older makes/models; which will ensure a proper fit every time. Check them out for more details!

Do you want to see your company here? Click here for more info about how you can advertise your business on Kustomrama.