Bias Ply vs. Radial Tires - Are radials really radioactive?
From Kustomrama
Are you rolling around confused?

So you're about to buy new tires for your traditionally styled hot rod, custom, lowrider, or maybe muscle car or gasser? A classic collector vehicle. It is essential to get the correct look on your car, to be able to get the authenticity it deserves. Obviously, your old car needs to run on bias ply tires because that's what they did back then, right? Or did they…?

When and where is it ok with a radial tire, and when is it not? Do bias ply tires really handle horribly on the road, or is a radial even worse? And, what is actually the difference between a bias-ply and a radial tire? Are radial tires radioactive?

These are all very delicate and frequently asked questions, and they sure need some consideration and deserve a definite answer. That is exactly what we are doing with this article. For many enthusiasts out there, bias ply tires are the only option, while they could simply be too expensive or not that big of a deal for others. For some people, radial tires will never help them achieve that period-perfect and sought after authentic look.

The first radial tire was out on the market in 1948, and the 1967 Fords on the US market, for instance, actually offered radial tires as an option. Does that make you surprised, curious, and intrigued? We sure hope so.

Join us in this article as we are trying to straighten out many question marks and present you with a plethora of good examples, options, and ideas of what tires to use. In today's market where radial tires are available that even has the appearance of a bias-ply tire, it's a wide-open market ready to be explored and enjoyed – Let's roll!

The specialty tire market is typically divided into two segments: namely bias ply and radial tires.
The bias ply is named in reference to the internal construction of the tire. The tire is easily identifiable with its sidewall bulge, due to how the tire is built. The cords run at a 45-degree angle from bead to bead in a diagonal pattern, crossed with each ply cord layer. This creates a very rigid structure. It has a narrow tread profile and a sharp shoulder, usually with a piecrust look. They are high and narrow and fill out the wheel wells good. Don't they? Due to the way they are built with rigid construction, they have some unique handling characteristics. As they do not conform to the road as well as a radial tire, they sort of wander over the road. It is not hazardous but requires the driver to pay more attention to driving. The tires' authenticity is undisputed, and if you are looking to build a car the way they looked before the early 1970s, a bias-ply tire is the route to follow. Typical questions asked about these tires; Are bias-ply tires good? How long do bias-ply tires last? Are bias ply's better than radials? Simply put, to each his own. Since both radial tires and bias-ply tires have been available and used on the market for a very long time, they obviously are both good tires. It is often a matter of what style you are trying to achieve.
Radial tires are manufactured very differently from bias ply tires. The ply cords run in a 90-degree angle in relation to the bead. This makes for a more flexible design that conforms very well to the road surface. It makes for a pleasant and comfortable ride, without the wandering sensation the bias ply tires have. The radial tires also have a wider tread. If you use a radial tire with the equivalent size of a bias ply tire, you will have more than one inch wider tread surface. Obviously, with modern technique and development, a radial tire is, in many aspects, a better tire than a bias ply. But, it just doesn't have that vintage appearance.
1914 - The first round
The first radial tire designs were patented by G.H. Hamilton and T.Sloper in London in 1914. A year later Arthur W. Savage of Savage Tire Company in San Diego, California patented a design in the US. A patent that expired in 1949. In 1948 the France manufacturer Michelin produced a radial tire for commercial use. The radial tire quickly became the new standard on all cars, outside America. Both the American automobile manufacturers and tire companies fought the radial tire, and it wasn't until the early 1970's that the radial tire made its entry on the US market. In the US, the manufacturers were afraid of the cost to redesign the automobile suspension to accept radial tires. And also of the cost to retool the entire American tire industry. Most American automobile makers and tire manufacturers wrote off the radial tire as a "freak product that isn't going anywhere." All the tire manufacturers except B.F. Goodrich decided that the American public wasn't ready to pay a lot more fo the harder ride on a radial tire. So, they kept making bias-ply tires. In 1965 B.F. Goodrich released their new tire, the Silvertown Radial 900. However, Goodrich sold its tire operations not long after that and got out of the tire business. In 1967 Ford Motors offered radial tires to their customers, and so did even Buick. The ball was now rolling.
1967 - Not exactly an overnight success
In 1967 Goodyear introduced their response to the radial tire. A bias-belt product called the Custom Super Wide Polyglas. A bias tire they simply added a fiberglass belt to. The best of it all - they could use the existing bias-ply tire making machines, and the tires could be kept at a low cost. In particular, the Polyglas GT was very often used on muscle cars from 1969 to 1973, and it was also one of the first white lettered tires on the commercial market. It is often jokingly referred to as "the most slippery tire ever made." Other competitors on the scene had their own versions. Firestone had their Wide-Oval, and Uniroyal had the Tiger Paw. In 1969 most passenger car models on the market ran these tires as a standard or option.
1973 - The oil crisis changes everything
Goodyear actually came to ridicule radial tires for their hard ride and high cost. The American tire industry was confident bias-ply tires would still be the best selling option. Then came a drastic turn of events in 1973 with the oil crisis when the gas prices soared. More fuel-efficient cars were imported, and they all had radial tires. All of a sudden, Americans started realizing that radial tires were more fuel-efficient, and that was now of utter importance.
1982 - Radial tires becomes standard equipment
In 1970, 86% of the US market used bias ply tires, and only 1.2 % used radials as original equipment. In 1973 the use of radial tires had jumped up to 19.2%, and by 1974 it had reached 43.9%. In the mid-1970s, Firestone Tire decided to get into the radial tire business. They made them on the cheap, using bias-ply tire making machines. That backfired horribly, and the tires completely came apart. They had to recall close to 9 million of the Firestone 500 steel-belted radial tires. By 1975 steel-belted radials were original equipment on all cars. Here is what Scott H. Buzby, then president of Goodyear Tire & Rubber Company, said in a press release in 1981. "All new United States built cars will have radial tires as standard equipment for the first time in the 1982 models. It's the first time since 1968, one tire construction will be the standard equipment". He continued saying that bias-ply tires from 1982 and on would only be used as a spare tire.
1994 - Coker Tire releases a vintage-looking radial tire
In 1994 Coker Tires released a vintage-looking radial tire on the market with a wide whitewall that really came to change the whole vintage tire market and car scene as we know it. Most definitely, a lot of people got into the retro, nostalgic car scene due to this event.
Before we move on. What about the bias-ply tire? Did it ever leave the market?
Russ Willis, sales manager at Lucas Tire of Long Beach, California, a shop that has been around since 1957, explains that that is not the case at all. Russ tells us, "Bias ply's have never been out of production. Pretty much all of the bias-ply tires are now manufactured by Specialty Tires of America in Pennsylvania except for our Lucas line of tires. They are made in Vietnam." Lucas's impact on the revival of the nostalgic and traditional car scene is also evident after we talk to one of the founding members of Shifters CC of Southern California, Kevan Sledge. "I bought my first set of bias ply's 1990-91 for my bucket T from Lucas Tires. The VW sized tires, 5.60-15 was a great fit for the front and very popular. They even sold blemished tires for about 30% off, which was great for all of us."

For people living in the US, it was easy to get a set of bias ply's even in the early 1990s, while the overseas market had a much tougher time. Swedish custom car builder Ola Thorslund remembers having to scrounge up some serious money if they wanted the, then very expensive, bias ply's. Coker Tires was the go-to tire dealer at that point. "Not many companies back then imported them at all though, and often you'd just have to go and find some used Remingtons or something else at a junkyard," he laughs, remembering a different time.
2013 - New tire. Vintage look. The best of both worlds
Up until recently, you either had a bias-ply tire or a radial tire. There was no gray zone. But now available on the market is actually a hybrid. The best of both worlds. Coker Tire is one of a few manufacturers selling what they call a bias looking radial tire. A tire that in 2013 won them an award at the SEMA Show for Best New Product. It is exactly what it sounds like. A new tire with the internal construction of a radial tire, but with the looks of a beautiful vintage bias ply tire. There are many sizes and whitewall widths to choose from, and Coker Tire's American Classis Tire or the Diamond Back Classics are two of the most popular brand choices for the delicate tire aficionados in 2020.
2020 - Endless opportunities
Many of the big manufacturers also carry a line of vintage tires in various dimensions and designs to supply all demands on the market. Bias ply tires with or without whitewalls. Redline tires, Dual red stripe, Blue streak, Goldline tires, Polyglas tires. There is nothing that can prevent anyone from building a period-perfect authentic car from any year or style these days, which is a necessity if you want a 100% perfect car. Tires are plentiful and available by many players on the scene.
So, what should I use on my car?
If you are looking for a period-perfect, authentic look for your car. You need to stay true to what the cars of that era originally wore, and drive on tires that were available on the market back then. There is no doubt about that. For instance, if you are building an early 1950s styled custom, you can not run a set of wide radial tires. It just doesn't cut it. The right wheel combination is a make it or break it factor on all builds, and, along with the stance and the right color, it is the most crucial factor for the overall appearance. If you're not nerding out on the period-perfect aspect, there is no shame related to rolling on a set of modern bias ply looking radials. If you use your car a lot. Back and forth to work. Long-distance driving and so on, there is no doubt that they are better to drive on and they look almost as good. Everyone has their own taste when it comes to tires, and rightfully so, but there are no two ways around the perfect set up.

Below are a few examples geared towards the traditional aspect of style. Radial tires you can use on hot rods, customs, and lowriders to make them look good:
Radial tires for traditional hot rods
Maybe you're just getting into the traditional aspect of the car hobby and are used to radial tires. They probably make you feel safe. Well, look no further because you have a few bias looking radial tires to choose from that look old but rides like new. Coker Tire's award-winning American Classic Bias Look Radial is a popular tire for hot rodders all around the world. It comes in many sizes and with a whitewall that is available from 2 to 3 1/4 inch widths. Click here for more info, availability, and prices. Another tire, that has become very popular in recent years, is the Auburn Deluxe Radial by Diamond Back Classis Radials. Available in 15-16" sizes, the Auburn Deluxe Radial comes with a pie crust edge and period-correct tread pattern. Click here for more info, availability, and prices.

That's fine, but what about blackwalls?

When it comes to bias looking radial blackwall tires for hot rods, the Excelsior Stahl Sport Radial is a safe bet. According to Coker Tire, Excelsior Tire was the world's first line of radial tires offered in sizes and styles to replace popular bias ply profiles. Inspired by vintage competition tires they have found their way onto many vintage racers and hot rods, and you will find them on several hot rods featured in the prestigious The Rodder's Journal magazine. Click here for more info, availability, and prices. Coker Tire's American Classic Bias Look Radial are also available as Blackwall tires if you prefer a more traditional bias ply look with a pie crust edge. Click here for more info, availability, and prices.
Radial tires for traditional customs
There are some modern options to the bias ply tire available for the custom car crowd as well. Again, the Auburn Deluxe Radial by Diamond Back Classis Radials has become a preferred wheel for delicate tire aficionados. They are only available in 15 and 16-inch tires, and the pie crust edge and wide whitewall give them a look suitable for pre 1960s style customs. If you're looking for tires for 1950s and later customs, Coker Tire's American Classic Bias Look Radial tires are a better choice. These radials are available with a 14 and 15 inch rim diameter, and they can be ordered with a narrow 1 inch whitewall. Absolutely perfect for a 1960s styled custom. Click here for more info, availability, and prices.
Radial tires for traditional lowriders
The lowrider community has always accepted the use of radial tires. Not surprisingly, since the big lowrider scene really took off in the early to mid-1970s. A time when radial tires already existed on the market. It's fine as wine to roll on radials instead of, for instance, 5.20-14 tires. One of the most common debates is whether to use a 175-75 or a 175-70 profile tire. Most votes go to the 175-70 as you get a better "stretch" with that tire hence a better look, and it's quite significantly lower compared to the 75 profile. There is a lot of manufacturers producing these tires. Remington is one of them, but definitely not the only one. The Suretrac 175/70R14 is available with the obvious 0.7" whitewall, and a quick click here will take you right where you want to be...Down on the ground.
Looking into the crystal ball
So, what have we learned from this article? Well, first of all, the reason people used bias ply tires on "everything" we see on pictures up until the late 1960s was simply that there was not really another option, at least not in the US. Not until the US manufacturers started producing radial tires for the big market in the early 1970s did we see hot rods, customs, and other cars roll on radial tires. Sure, the classic cars do, in all honesty, look best with bias ply tires, such as for instance hot rods built in a 1940s to 1960s style. The same goes for customs of that same eras. But, today, we can purchase radial tires with the bias ply look. They run smoothly, look great, and can even fool the most hardcore fanatic. Beginning in the 1970s, there was the big muscle car and street machine era but also the street rod scene that culminated. These cars, on the other hand, definitely look best with suitable radial tires. We are not trying to tell you what to use, merely opening your eyes to more options for your vehicle than ever. Looking into the future we suspect that we might see some changes in the scene when it comes to this. The last three decades, we have seen, and heard, enthusiasts, wasting time and energy trying to explain to the more traditional guys why they prefer to drive whitewall radial tires instead of period-correct bias ply tires. And why that is a much better choice. This situation might flip a few years down the road, and suddenly the traditionalists have to spend time and energy to explain why they still drive whitewall bias ply tires instead of the new radials with a bias ply look. Time will tell. What we know is that your new and exciting purchase could be just a click away. Stay cool. Keep one hand on the wheel and drive safely!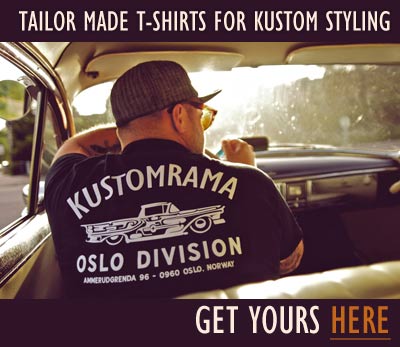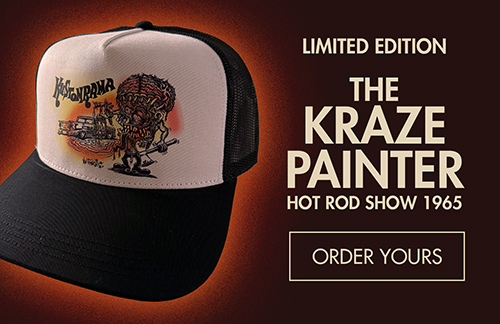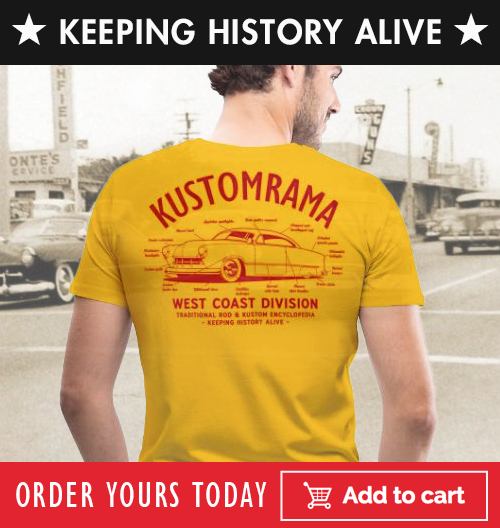 Did you enjoy this article?
Kustomrama is an encyclopedia dedicated to preserve, share and protect traditional hot rod and custom car history from all over the world.
Can you help us make this article better?
Please get in touch with us at mail@kustomrama.com if you have additional information or photos to share about Bias Ply vs. Radial Tires - Are radials really radioactive?.



This article was made possible by:
SunTec Auto Glass - Auto Glass Services on Vintage and Classic Cars
Finding a replacement windshield, back or side glass can be a difficult task when restoring your vintage or custom classic car. It doesn't have to be though now with auto glass specialist companies like www.suntecautoglass.com. They can source OEM or OEM-equivalent glass for older makes/models; which will ensure a proper fit every time. Check them out for more details!

Do you want to see your company here? Click here for more info about how you can advertise your business on Kustomrama.