John Vara's 1941 Ford
From Kustomrama
1941 Ford Convertible originally restyled by Barris Kustoms for John Vara. The build was started in 1948, after George and Sam had moved to their Los Angeles shop at 7674 Compton Avenue. John's convertible is one of the most radical early Barris Kustoms, and according to later owner Johnny Zaro all of the work on the car was performed by George Barris. The body was channeled 8 inches before it was dropped another 3, by inserting a level rear crossmember. The stock springs were retained for bumpless riding. Because of the extreme ground clearance, the front fenders were raised about the same amount to make sure the wheels still could turn. The hood sides were discarded and the edges were flared into the new fender lines ending into full fadeaway fenders. The entire front was welded into one piece. The hood and fadeaway fenders were cut from sheet stock. The headlights were frenched and a new grille shell was created. A 1946 Ford gravel pan was molded to the rear fenders before a pair of 1946 Ford bumpers were installed. Both bumpers were mounted compared to the side of the car. The rear license guards housed a pair of round motorcycle taillights. The body was was nosed, decked, and shaved for handles. The deck lid corners were rounded and the license plate was recessed into the bottom of the deck lid. The body was sectioned by cutting material from the bottom of the body, the rear fenders were molded-in with a smooth radius to the body. The door openings were reworked so they would open all the way to bottom of the body. The windshield was chopped 4 1/2 inches.[2] Before the build was completed John traded the convertible for Johnny Zaro's 1940 Mercury coupe. Zaro's Mercury was pretty rough around the edges, so Johnny had to add some extra cash to the deal. At the time, Zaro was living in Maywood, California. In 2011 Zaro told Trend Books editor Justin Kudolla that the build took 9 full months to complete. The convertible was still at Barris Kustoms when the trade was done. Johnny did not have enough money, so he borrowed some money from his mom. "She didn't have enough, so we went over to Seaboard Finance Co. in Huntington Park, and I borrowed the money from them."[3]

Johnny remembers that one day while George was trying to fit the fadeaway fender on one of the side he got really frustrated. "He got madder than heck and he took a pick hammer and started punching holes in the fender! He was really upset! I came back the next day, and he's welding the thing up, brazing it back together, and grinding down." The first version of the Ford featured three horizontal 1948 Pontiac grille bars. Once the bodywork was done, the car was painted a Polychromatic Maroon. "The paint was made by DuPont, and I remember that because I was down there when they were painting it, it was at nighttime."[3] Zaro bought the convertible after it had been painted. According to Barris Kustom Techniques of the 50's Volume 4 the car was fit with a padded top fabricated by Louis Chavez at American Auto Tops. In 2011 Zaro told Justin Kudolla that he think Gaylord did it. Bill Hilborn of Inglewood upholstered the interior in red and white plastic. Exceptional for this interior was a small bar incorporated in the rear seat. "The back seat was shaped like a couch and it had a little bar in the back and in the front it had a small tray which clid out to set your drink on when you went to the drive-in." The dashboard was smoothed and chromed with accents of hand crafted clear red plastic trim pieces. The carpeting was wine colored. "I had a wine colored light that came on when you opened the door." There were no door handle on the girl's side. "Pushbuttons were on the inside on the driver's side. I'd push the button and the door would open on the passenger's side. Underneath the car I had a button to open the doors from the outside, then I had a shut-off switch underneath the pan in the back where I could flip it like a toggle switch and it would shut the juice off and no one could open the doors. I also had a hydraulic lift in the hood, and one in the trunk, and I'd pull the switch while the car was running, and it would raise up and I'd take the cap off on the inside and put the gas in there."[3] Dual Appleton 112 spotlights, smooth hubcaps and 1946-1948 Ford fenders skirts wrapped up the style. The total height of the Ford was only 56 inches. Completed in 1948, the build cost John over $ 5000.[4] The first version of Zaro's convertible was featured in Motor Trend December 1949.

At home, Johnny had to have boards in the driveway because the convertible would scrape too much in the back. "The guys that cleaned the street, they would get very upset; they'd have to stop their street sweeper and throw my boards back up onto the lawn! And then I'd come home, put them back into the street, and drive on in! It was two pieces of wood with a board underneath nailed together. It was wide enough to run on one wheel over it, I had to raise it up enough so I could go in without scraping." The convertible was not Johnny's everyday car, he also had an old 1935 Chevrolet junker that he drove to work "I even had a rope tying the doors closed! I'd drive that back and forth to work because I didn't want to take the convertible out in daytime and get it messed up. I was very fussy about it, before it came out of the garage in the nighttime I'd completely dust it off."[3]

According to Zaro, the car hauled ass as well. "In the beginning, I had a regular V-8 engine, but then I got a 3 and 5/16th bore, Weiand heads, a Spalding ignition, Howards cam, and an Edelbrock manifold. It was a full engine. That thing really went! One time George wanted to take my car up to the Oakland Roadster Show. I told him "No, not unless you put the car on a trailer and take it up there." I didn't want to put any miles on the new engine, I just had the full engine put in the car. So, he ended up bringing a trailer and he took it up there, and then I flew up there and drove it back."[3]

"I was always getting tickets as it was too low to the ground. I wasn't running a front license plate, the pipes were too loud. The cops were down on customs. Once we were down at Balboa and a cop said "Pull over," and he gave me a ticket for loud pipes. I got my ticket, got in my car, started it up and here comes another cop the other way. "Hold it right there," he said, and he gave me a ticket for parking in the red where this other cop told me to park. There was one cop in Maywood who used to follow me and he'd always figure out some reason to give me a ticket. Your rear bumper was supposed to be sixteen inches from the ground in those days. Bell was one of the worst places to get through, the cops were always around there and if they pulled you over you weren't talking your way out of it."[2]

Zaro had the car Polychromatic Maroon for a long time before he decided to change the color. "George thought it was a good idea too, so we painted it Tokay Beige. It was a very unusual color, it was kind of a pinkish tan. It really stood out at nighttime, but it was nothing special during the day." This version featured inserted taillights custom made from red Lucite, similar to the ones on Jesse Lopez' 1941 Ford, Cadillac Sombrero hubcaps, and a new grille. The 1948 Pontiac grille bars were replaced with a newer 1949 Pontiac grille bar. The vertical bars were removed from the new grille before it was fit with Studebaker teeth underneath. Tokay Beige version of Johnny's convertible was featured in Hop Up December 1951. Johnny regret the color change, and he had it re-painted deep Polychromatic Maroon with a lot of gold powder and many clear coats for extra shine. This version was featured on the cover of Motor Trend July 1951.[2]

Later on, Johnny had some trouble making the payment to Seaboard, so they came and took the car from him. "I didn't have any choice. They were supposed to put the car in storage down in Los Angeles, and charge me $20 a day for storage back then! So anyway, I found out the manager of Seaboard Finance Co. had the car over at his home in South Gate and he's been driving around and raising heck. He smashed the bottom part of the fadeaway in, and I got it and took him to small claims court and the judge wouldn't give me anything on it."[3] A month before Johnny and his future wife Fay were due to get married, he put the car up for sale.[2] "First, I had it up for sale on the D&B car lot, and it wasn't there 24 hours, and it was stolen off of the lot. The FBI called me and told me they had my car in Kingman, Arizona. It was a federal offense once the car got across the California border. So I went down there, and it was a couple guys from Boston who stole the car, and they ruined the motor. My soon to be father-in-law took me down, and we towed it back from there. Then, I ended up putting another full engine in it." A fellow came from Lincoln, Nebraska to buy the car in 1952. "He was going to college back there, and I got a letter from him and he said he was able to take it to school there one day, and then, he said he couldn't take it any more, because everybody was all over it!"[3] In 1952 the car was advertised for sale in Motor Trend August 1952. Springer Jones of Mitchell, Nebraska was the current owner. That version was powered by a 1948 Mercury engine. The asking price was $2345 or best offer. Springer might have been the one that Johnny sold the car to.

Russ Erlinger of Belleville, Illinois bought the car from a fellow in Wyoming in 1953. Russ was involved in an accident with the car, and he and his wife rolled it over. Russ still owned the car in 2014. At the time it was fully restored, and Russ had updated it with a pair of 1949 Plymouth bumpers. Otherwise it was exactly as it was when Johnny Zaro owned it.[5]
Magazine Features
Motor Trend July 1951
Hop Up December 1951
Custom Cars Trend Book No. 101
Hop Up March 1952
Motor Trend December 1952
Trend Book 208 Custom Cars 2012 Annual

References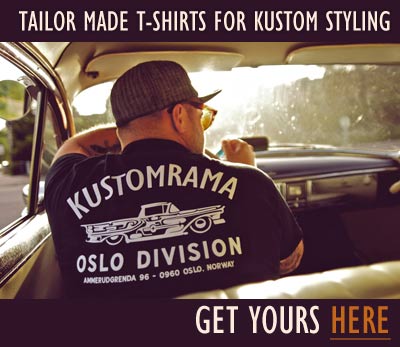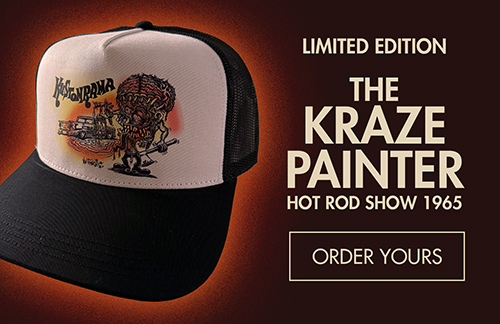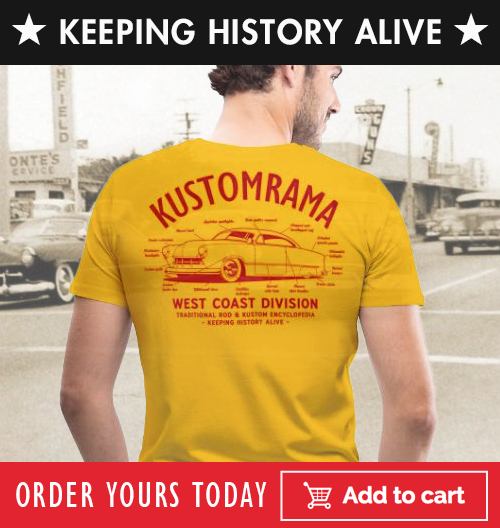 Did you enjoy this article?
Kustomrama is an encyclopedia dedicated to preserve, share and protect traditional hot rod and custom car history from all over the world.
Can you help us make this article better?
Please get in touch with us at mail@kustomrama.com if you have additional information or photos to share about John Vara's 1941 Ford.



This article was made possible by:
SunTec Auto Glass - Auto Glass Services on Vintage and Classic Cars
Finding a replacement windshield, back or side glass can be a difficult task when restoring your vintage or custom classic car. It doesn't have to be though now with auto glass specialist companies like www.suntecautoglass.com. They can source OEM or OEM-equivalent glass for older makes/models; which will ensure a proper fit every time. Check them out for more details!

Do you want to see your company here? Click here for more info about how you can advertise your business on Kustomrama.